Michael Cook of Wormspit sent along a link the other day to the website belonging to artist Cayce Zavaglia. Cayce is an artist who uses fibers (wool and acrylic) on canvas to create painted portraits, or at least what looks like painted portraits. This is needle painting taken truly to the artist's level! It is amazing how Cayce Zavaglia uses strategically stitched threads to create these gorgeous portraits – and it is definitely worth taking a good look at the website!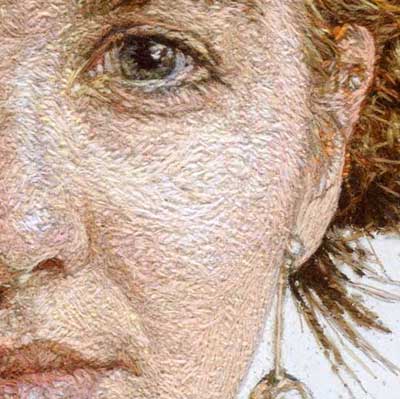 While visiting Cayce's website, be sure to read the artist's statement. Cayce notes the difference between mixing colors of paint and mixing colors of thread – and how creating a system of stitching with the threads in a certain sequence of colors brought about the illusion of painting with certain tones. It is positively fascinating to see the detail in the stitching and the overall effect of the thread placement when stepping back a bit from the work.
The neckline of this wooly sweatshirt is perfection. I can't decide what I like better – this or the earrings on Sophie. If you take a look at the "artwork" section of the site, when you get to Sophie (towards the end of the slideshow), click on her to see the up-close details. Note her earrings! Incredible!
If you're looking for inspiration, or if you just like browsing through amazing textile art, go visit Cacye Zavaglia's website! And prepare to be astounded!