This Blackwork Fish embroidery project has dragged on long enough, hasn't it? In my imagination, the project had become a big googly-eyed monster, and every time I sat down to do some stitching, it stared at me with a Certain Look that I generally ignored. But last night was different. Last night, I said, "That's it! Like it or lump it, I'm finishing you now, and your little bubbles besides!"
And so I did. It's not the best finish in the world, but by gum, it's finished.
First, this is where we left off on the Blackwork Fish: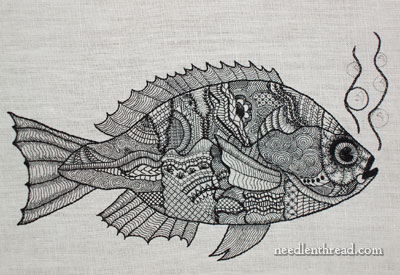 Before I could do any stitching, then, I had to remove the stitches that were already there, which everyone seemed to agree were too heavy for a bubble-path.
So, I flipped over the frame and snipped out the stitches.
*Sigh* I wish I hadn't included the bubbles. I would like the fish better without them.
But since I used a permanent pen to draw them on, I was pretty much obliged to cover up the pen marks, including the parts of the bubbles that I messed up on when drawing the design!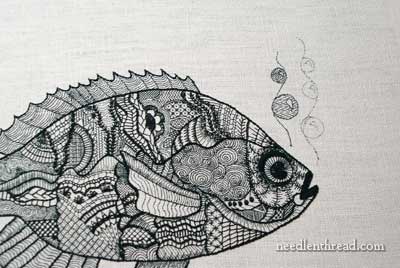 Using one of the finer weights of the black silk threads I used for the whole project, I started stitching. To cover the lines, I used backstitch. I broke it up here and there, where there were no pen marks on the fabric, to try to lighten it up a bit.
Then, on to the bubbles, which I just randomly filled with whatever occurred to me while I was stitching.
The bubbles are a bit wonky and crooked…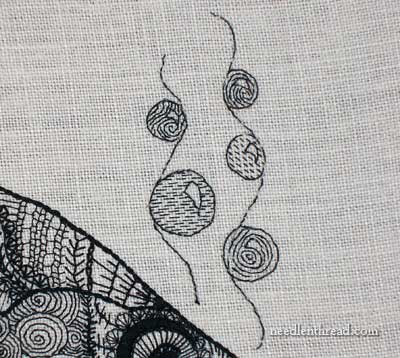 … but they are filled, and the fish is finally finished.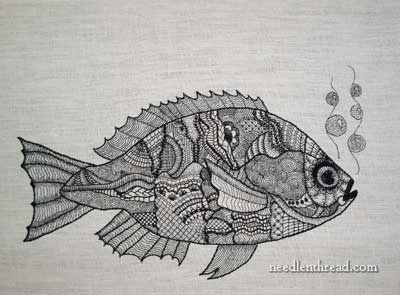 I'm pretty sure the swimmy beast will end up on the outside pocket of a tote bag.
I don't know about you, but for me, I am the queen of procrastination when I run into a snag like I did on this project. And then the project lingers for a while… But doesn't it seem silly to leave something for so long that's so nearly done? That's how I felt yesterday evening when I took this up. Why did I leave it so long? Just get 'er done! And golly, I feel better now!
Any finishes in your future?