If you want to follow the progress on my "Blackwork Fish" surface embroidery project, here's a list of links to keep the whole project indexed in one spot.
I began this embroidery project at the end of February, 2010, and finished it in September of the same year. You can click on the photo below for a larger version.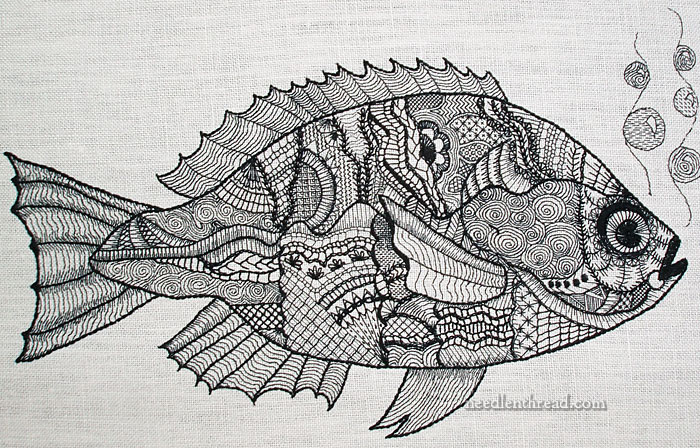 The project came about as the result of a doodled design of a fish, when I was playing with "zentangles," which are basically drawn images that make use of repetitive patterns. It seems that, properly speaking, zentangles have no definite form, but this project started out as the doodled outline of a fish, which I filled with repetitive patterns. While doodling, I started thinking of ways to translate the concept into needlework, and the Blackwork Fish emerged.
The project is worked on 40 count white Legacy linen, using 8 different weights of black silk thread made by Pipers Silk. The threads were originally packaged for blackwork by Leon Conrad.
The stitches and fill patterns are random – whatever popped into my head while stitching. There was no pattern to follow.
Below, you'll find all the posts related to the project, in chronological order.
Setting Up the Blackwork Fish Project
Starting the Face on the Blackwork Fish
Progress on the Blackwork Fish, and the Original Doodle
More Progress – the Fin of the Blackwork Fish
The Lower Half of the Blackwork Fish
Progress on the Upper Half of the Blackwork Fish
The Blackwork Fish: Body Finished, Tail Started
Working Tiny Lines on Fins
Finishing the Fins
Troubles with Bubbles
The Blackwork Fish – Finally Finished!