Wow! Thanks for all your response on the Christmas Cheer Needlework Book Give-Away from this past weekend! Normally, my give-aways aren't over such a short span of time, but despite being up only a couple days, there were over 500 responses, which is pretty good! I was afraid everyone would be busy this weekend – you know, baking, shopping, stitching madly to finish up Christmas gifts….! – and that the response would be minimal. I'm so glad it wasn't the case!
I'll give you a hint about the winner: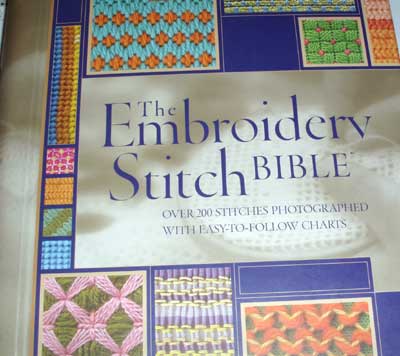 That's right. She picked the Embroidery Stitch Bible. It's an excellent little reference book, and I hope she likes it.
Without further ado, the winner is Lynn D in NC! Originally, Lynn named the Embroiderer's Handbook, but she corrected the title. I kind of figured when she mentioned the spiral binding that she meant the Stitch Bible! Drop me a line, Lynn, with your mailing address, and I'll get that shipped out today. Remember to put it under the tree, and don't open 'til Christmas!!
Thanks again, everyone, for joining in!