Let's pause a bit and think about doing needlework for a cause. I mean, what could be better? Doing what you love, and helping a good cause at the same time? Well, Tricia's new project introduced over on Thistle Threads is just that sort of project!
Not only do you get the opportunity to do a little stitching, but you get to help out with a worthy cause. Oh, and did I mention, the object of your stitching would be a darling blue snail? So… stitching… stitching a blue snail…. and helping a cause! Yep, this is right up my alley!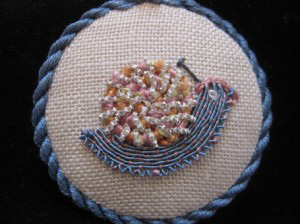 Tricia's snail is based on a historical piece, and the proceeds from the kit are being used to help house a whole collection of historical gloves, to preserve them and display them.
The snail is a small, wee thing, stitchable in a short time. It's a great opportunity to use some special needlework threads that you may never get the chance to use otherwise! And, did I mention it's helping a worthy cause?
So… add it up again: stitching… stitching a blue snail…. stitching a blue snail with especially nice materials… and all for a worthy cause!
Not only a great way to spend some quiet holiday time (stitching a blue snail!), but also a great way to be a little bit generous in helping to preserve needlework history!
Go check out Tricia's Stitch-a-Snail post on Thistle Threads and see what it's all about! She's got some fantastic photos there, and a thorough explanation of the project to raise the funds to help preserve a whole collection of embroidered gloves. And if you're able, do purchase a kit! I bought one. It's my "Christmas Present" to me… and to the glove collection! A pretty good deal, methinks!