The Pomegranate Corners wool embroidery project is coming along – errr. Well, it's back to where it was a while ago, with the top bunch of leaves in…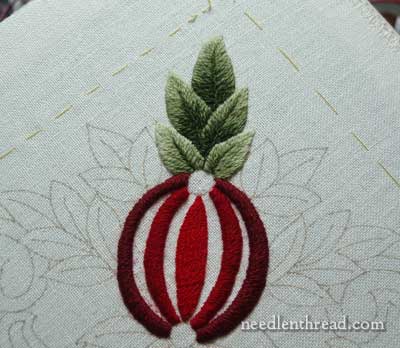 You might think it's not coming along at all, it's going so slowly. And I might be tempted to think that it's actually going backwards, it's going so slowly.
But see, it's all a matter of perspective. Any forward movement is forward movement, says I. Occasionally, slowing down or even stepping backwards is necessary, but as long as eventually we go forward again, then all is well.
And along those lines, I've convinced myself that I'm making fantastic progress on this project!
Incidentally, this is the angle I saw the leaves as I stitched them. They look better from this angle.
See! Perspective is everything!