Goldwork is called "goldwork" because it involves the use of gold threads. The term goldwork is often used interchangeably with "metal thread embroidery," though metal thread embroidery encompasses the use of more than just gold threads. It pretty much takes into account the use of any metal threads. The gold threads involved in goldwork are not "metallic" threads, but are rather "real metal threads" – gold, silver, and alloys – that are used (often in combination with silk) to produce the richest results in hand embroidery.
Real metal threads today come in a variety of colors, and these can be used to produce some interesting effects in metal thread embroidery. I haven't done any real work with colored metal threads beyond playing with them, but I've recently gotten my grimy paws on a few new pieces of colored metal threads, and my mind is whirling with The Possibilities! I suppose I'm a bit like a crow that way. I just love sparklies!
These are purls. They're metal threads made from wire, and they look like a very fine spring with a hollow core. Unlike a spring, though, they don't bounce back when they're stretched. There are different types of purls used in goldwork and metal thread embroidery: smooth purl, rough purl, and check purl, for example. What's the difference between the three? Smooth and rough purl are pretty much the same, except that smooth purl is really shiny, while rough purl has a matte finish. Check purl, though, is crimped in such a way that the spring is faceted. The sparkly turquoise thread in the lower half of the above is check purl.
I love purl! In its "smooth" and "rough" forms, it tends to look a lot like wiggly spaghetti!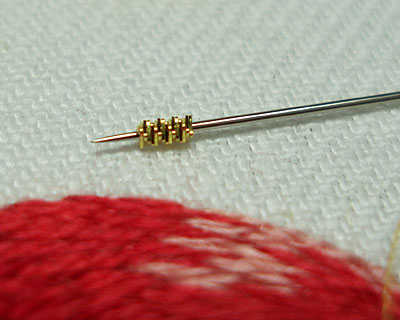 Purl is cut into pieces (called "chips") and sewn on like beads. Last year, I used a bit of check purl on this goldwork pomegranate design. There are different ways of using purls – they can be cut into little bits and used to fill a space…
… or they can be used in long pieces over raised padding. (My spacing is Really Off on those bits in the photo above. I need to take a couple of those off, trim them down to size and replace them!)
But back to the whole color question: metal threads are available in a slew of colors. No, not quite as many colors as you'd find in your typical line of embroidery threads! But still, there's a nice selection of colors available out there – from blues, to purples to reds, orange, and green, copper, and even black. You can also find a variety of colored metal passing thread out there, and even pearl purl in colors. So if you want to add some color interest to your metal thread embroidery, track down some colored metal threads!
You'll find colored metal threads at shops that carry supplies for goldwork, which are rather few and far between. However, there are some good online resources if you don't live near such a shop (I don't!). In the US, you can try Threadneedle Street, and Fireside Stitchery for metal threads. In Canada, Berlin Embroidery carries them. In Australia, try Alison Cole Embroidery and Mary Brown Designs. In the UK, you can try Golden Hinde and Golden Threads.
Finally, today's the last day you can sign up for my Birthday Give-Away – your opportunity to win a very nice needlepainting kit, some Evertite stretcher bar frames, and a lovely pair of perfect DOVO embroidery scissors. If you haven't signed up yet, don't forget! Thanks to all who have participated so far, and for you kind wishes for my birthday. I realized only after the fact that it seemed like a really an underhanded way for me to get over 600 people to wish me a happy birthday!
Later on this week, I'll be showing you a piece of Suzhou embroidery up close and personal. I'm still trying to finish up a couple beginner tutorials (!), and I'll also be sharing with you a very pretty Hungarian embroidery design from Lilly's Legacy – one intended for whitework, but with many applications. Somewhere in there, I'd like to give you some project updates (slow going – busy days at work!), and show you some silk threads and a new positively gorgeous thread collection on the market. Oh, I've got LOTS to share with you in the next couple weeks! I'm looking forward to it and I hope you are, too!