There are a few new colors of Fine d'Aubusson wool embroidery thread out. This is a line of threads produced by Au Ver a Soie, suitable for fine wool embroidery & crewel work. I really like this thread, but I just wish there were more colors available here in the US! So, when new colors do step over the pond, I think it's pretty exciting!
Fine d'Aubusson is a fairly soft, fine wool, and it is a very consistent wool, without areas of thick and thin that can be found in other crewel wools. The new colors out include a nice range of bright blues and some brighter greens, as well as some browns, muted blues, a new sage-ish green, a very dark greenish-charcoal, and a deep burgundy-claret.
My faves are the new brighter colors. It's always good to see wool available in livelier colors! The blues are gorgeous, and the brighter greens and the turquoise are Tropical Beachy to a T. Perfect for spring and the onslaught of summer.
The new muted blues round out the shades of this color already available, and the soft green fits in with greens previously released.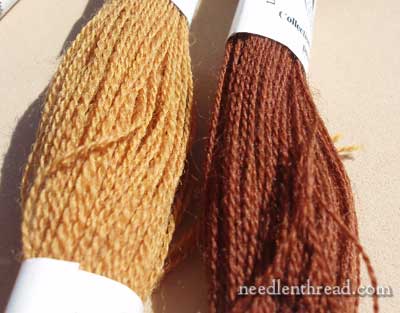 A new golden brown and lighter chestnut brown are welcome additions to the line.
And the final two colors in this new batch are darker choices.
I'm using the Fine d'Aubusson in the wool pomegranate project (that is lately getting nowhere):
It stitches up a great satin stitch!
And I also used it (mixed with other wools) in the Crewel Rooster project last year: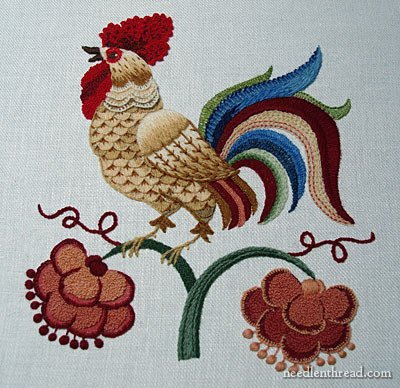 So, if you've been using the Fine d'Aubusson yourself and want to extend your range, keep an eye out for the new colors in your favorite needlework shops. The thread is imported by Access Commodities, so any shop that carries Access Commodities' goods should be able to order it for you, if you're looking for it. I'm woefully far from any needlework shop that carries anything beyond DMC and overdyed cottons, so I order mine online.