Did you go through life being told not to judge books by their covers? This expression, of course, has a metaphorical meaning in the human relations field: it's not the outside that matters – it's what's inside that counts. And I'm all for that! This lesson is reinforced daily when teaching youth, that's for sure.
But when it comes to needlework books, I often judge them by their covers. Tsk, tsk! And I've been seduced by book covers before, only to regret my choice when I've found the content a bit lacking.
Here are a few upcoming books in the needlework field, and though they aren't published yet, I've pre-ordered them. I base my decision to pre-order needlework books on a few factors that I'll discuss below, and there are two reasons why I pre-order books, rather than waiting to order when they've already hit the stores: 1. they get here faster – usually before their release, which gives me a head-start on reading them so I can review them for you; 2. Pre-orders are always guaranteed the lowest price: if the price goes lower before the book is shipped, you get the lower price, but if it goes higher, you don't pay more than the pre-order price. This point has served me well in the past, so I figure it's a no-risk situation.
First up is Goldwork: Techniques, Projects & Pure Inspiration by Hazel Everett. Can one have too many goldwork books? Perhaps. I do have a few that I find useless. But this one intrigues me!
Judging this book by the cover, I see a couple things I like right off the bat: I like the loose floral design, I like the use of color, I like the subtle but interesting uses of the metal threads.
Yes, the cover caught my eye on this one! But I didn't jump into pre-ordering it right away. First, I visited the publisher, Search Press, and then I visited Amazon to read the descriptions of the contents of the book. It's always a good idea to read the description of the book before pre-ordering, especially when there aren't any reviews out yet.
Though I'm not familiar with the author, Hazel Everett, I am familiar with needlework books published by Search Press. I haven't come across any lemons yet, so considering the cover, the description, the information about the author, and the fact that the book is published by Search Press, I figure this is bound to be a worthwhile book.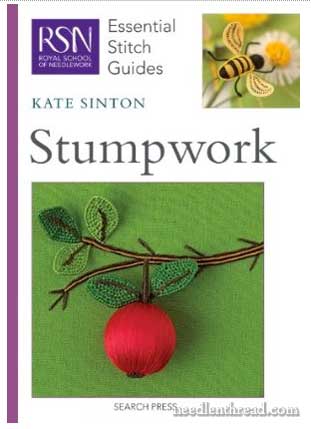 The Stumpwork Essential Stitch Guide by Kate Sinton is another Stitch Guide from the Royal School of Needlework. These stitch guides are great little books. I've already reviewed the Crewelwork Essential Stitch Guide and the Blackwork Essential Stitch Guide here on Needle 'n Thread. Both books are excellent.
I didn't judge this book only by its cover, even though the stumpwork bee in the corner photo is pretty darned cute. Knowing the quality of the two previous stitch guides from the RSN, it was an easy decision to get my order in on the stumpwork book as well. The stitch guides are a good value – less than $15 through Amazon, and well worth the price. The Stumpwork Essential Stitch Guide is due out at the beginning of August.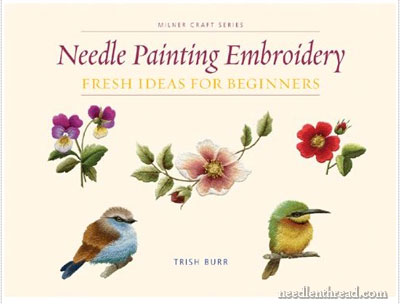 Another book coming out is Trish Burr's Needle Painting Embroidery: Fresh Ideas for Beginners. I'm already super familiar with Trish's gorgeous and instructive books, so there was no hesitation in pre-ordering this one! It's available for pre-order through Amazon, too, for less than $14.
But if I were not familiar with Trish's books, the cover would still sell me on this one! The birds – oh, the birds!! I love needle painted birds, and Trish has several that are real stunners. Her flowers are exquisite, too, and those little violas on the cover are so perfectly Spring. Granted, the book apparently won't arrive until October, but that's as good a time as any to start planning spring stitching!
The last book on my list this year (so far!) is the Silk Shading Essential Stitch Guide by Sarah Homfray, another book in the same series as the Stumpwork book above.
Though already acquainted with the series and knowing the quality of these books, the cover did indeed catch me on this one, too. Once upon a time, I wrote a brief blurb about Young Yang Chung's book, Painting with a Needle. Are you familiar with it? I love the cover on it – and I still love meandering through the book, reading little sections of it, and lingering over the photos. There is something about underwater scenes that enchant me (I live in Kansas, where beautiful water is scarce!), and Young Yang Chung's fish scenes are incredible. The underwater scene on this Silk Shading essential stitch guide mesmerized me, in just the same way.
I always look forward to books. I have to say, they're my one weakness.
Ok, ok. They're my one weakness… among many other weaknesses!
Besides using books as learning tools and references, they provide stitching inspiration and an enjoyable way to spend leisure-time. So far, these are my four must-have books for 2011. We'll see if anything else pops up on the radar any time soon. Have you heard of any good needlework books set for publication this year? Let me know if you have!