Laurie Latour, author of The Guide to Gingham Embroidery: Book One – Stitch & Learn Gingham Lace, Snowflaking, & Gingham Cross Stitch, is guest posting here today. Laurie's an avid collector of gingham embroidered aprons and an expert on the subject of All Things Gingham-Embroidered. I hope you enjoy her article!
Ah, the long lazy days of summer, a time to dream and play and have fun. Or so it was when we were kids. Now, maybe not so much. I don't know about you, but there's still a playful little kid inside me yearning to be set free. Free to explore, imagine, and well, just have fun.
These are the very prerequisites for creativity: giving that inner child permission to play, time to dream without the clamor of endless To-Do lists, and freedom to explore without the fear of making a mistake. That applies to our needlework as well as any other creative endeavor.
As we play and try out something new with needle and thread, why not invite a child to join you? Or perhaps an adult who never learned to sew, much less to embroider. Approach needlework as a fun time together, rather than an intimidating endeavor.
My hobby, collecting gingham embroidered aprons, became a call to creativity and has sparked many ideas to try new designs and threads in my needlework. My display of vintage aprons has changed me from someone content to always follow a pattern, to a more adventurous soul who now delights in playing with needle, thread, and fabric. After all, what do I have to lose? A bit of gingham and some floss is not a huge investment, but it is the "perfect playground."
The aprons also inspired me to teach gingham embroidery to young and old. Because it is easy to learn, and needs only a few inexpensive supplies, most people are willing to give it a try and are pleasantly surprised that their needlework efforts are quickly rewarded.
So on this breezy summer's day, let me share with you some of the embroidered aprons that inspire me.
I love these stair step hemlines; they add interest and make a basic apron something special. The butterscotch apron is decorated with basic cross stitch, and the needle worker had a bit a fun creating those little round motifs by stitching bits of wide rick-rack into a circle. The pockets really caught my eye! I love the unusual shape, and the way they are cut on the bias, and then applied to the straight grain of the apron. Something in me likes to rebel, at least occasionally, to the admonition to always match the lines in your fabric!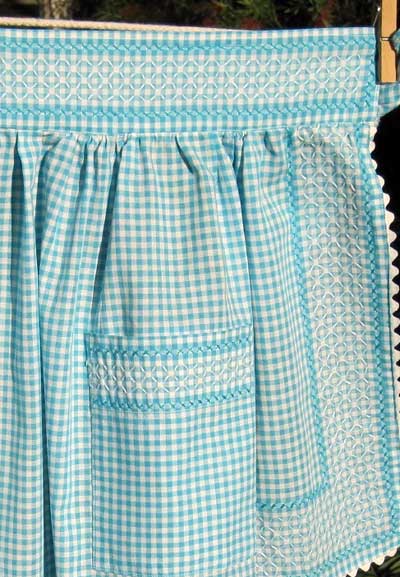 The turquoise apron is beautiful in its simplicity. Darker cross stitching frames the white half crosses which accent the white checks in the fabric to create a pretty design. A novice needle worker could easily stitch this on a tablecloth, placemats, an apron, or for a really quick project, a bookmark.
The red apron is decorated with blocks of cross stitch and double rows of running stitch (left).
What looked like ordinary blocks of cross stitch revealed a more detailed design; woven crosses adorn the center of every other block (right). Floss was woven over several stitches on top of the fabric to create the cross.
Stitches on aprons don't always look nice and neat. They have, after all, been worn, loved and laundered! The blocks of stitching are still quite attractive, and a design element you see often in gingham embroidery.
In this apron, blocks of cross stitch alternate with blocks of half cross stitch. The needle worker stitched white dove appliqués to the plain gingham squares to add her own unique touch to the apron.
These block patterns remind me of quilt patterns. Hmmm, why not stitch blocks in different colors, a Sunshine and Shadow design perhaps? A project for another day…
While cross stitch is great for beginners, there is so much more to Gingham Embroidery. Many people are unaware that you can create beautiful Gingham Lace. I hope you'll try it.
On this apron, I stitched what is called Reverse Gingham Lace Stitch, weaving pearl cotton around the dark checks in the fabric. Traditionally this stitch is worked around the white checks (beige in this homespun). But I like the more dramatic look you get working it in reverse as I did on the top of this apron.
To add a little sparkle to the dark fabric, I considered beading but decided to save that for a smaller project. Instead, I stitched tiny running stitches over the snowflakes with rayon floss.
To inspire you to explore all the possibilities of Gingham Embroidery, I must share one more apron from my collection.
Someone spent many hours creating this beauty from the perfectly pleated waistband to the drawn thread work on the apron and the pockets, plus eighteen woven spider web motifs!
Mary has written an excellent tutorial on drawn thread work on gingham and she's done a how-to video on the ribbed spider web motif.
Whether it's basic cross stitch, drawn thread work, or needle weaving, I hope you'll try your hand at Gingham Embroidery and invite someone to join you as you play!
You'll find detailed photos and instructions in my ebook, "The Guide to Gingham Embroidery, Book One". See Mary's review here.
Thanks to Laurie for writing today's post, and for showing us these darling gingham embroidery aprons and pointing out the all the pretty details. Hope you all enjoyed it!
Any questions or comments – feel free to leave a comment below! Enjoy your weekend!