So far, the Royal School of Needlework has released four good "essential stitch guides" in their new series of needlework books on specific topics: blackwork, crewelwork, silk shading, and stumpwork. Today, let's look at their new stumpwork essential stitch guide!
The RSN's Essential Stitch Guide: Stumpwork is written by Kate Sinton, and it is presented and formatted like the other books in the series: a board-bound book with a spiral spine, rather small in size (about 6″ x 8″), which makes it nice for a work table reference book.
Contents-wise, the book is divided into four main parts. The first part is "introductory talk," where you'll find information on the Royal School of Needlework; a short introduction to stumpwork; a brief history of stumpwork (with some photos of historical examples); a section on materials used in stumpwork (a nice section – it covers a wide variety and leaves the imagination open for anything); instruction on how to frame up a project for working; a section on stumpwork design; and a section on appliqué, which is included at the beginning here, instead of in the "techniques" section that comes a little later in the book.
The next section covers stitches in four categories: flat surface, raised surface, needlelace, and metal thread embroidery.
The section on stitches is followed by a section unfolding various stumpwork techniques: padding, slips, wrapping, and "found objects."
And the final section focuses on figures in stumpwork embroidery.
Each instructional section is presented with step-by-step photos of the technique or stitch. There are handy little marginal "notes" throughout the book, tipping the needleworker on some aspect of the technique.
The book is be-speckled with little examples (and big!) of stumpwork elements or whole project, which help the stitcher see what the technique discussed can look like in a finished form.
Because stumpwork involves a huge variety of embroidery techniques, you'll find that the book touches on ribbon embroidery as well (though it is not heavily discussed).
You can see the step-by-step nature of the stitch instructions here – reminiscent of Country Bumpkin's A-Z series books, when it comes to step-by-step photos. I like this approach.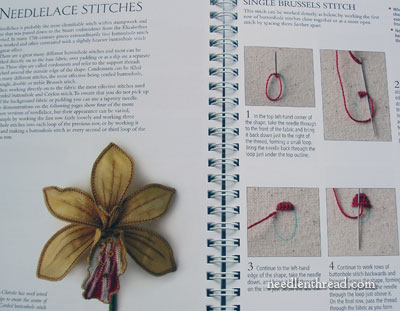 I like the needlelace section of the book. The step-by-steps are very clear.
And of course, there's a section on basic metal thread work, too, because often stumpwork and goldwork embroidery are combined.
In the techniques section, each technique (such as padding the elements of stumpwork) is also addressed with step-by-step photos, and alternatives to different ways of accomplishing each technique (depending on the element you're embroidering) are given.
But the most thorough and interesting part of the book, I think, is the section on stumpwork figures. It's done very well – from sculpting faces to fingers, if you're interested in stumpwork figures, this section makes the book a must-have.
Another thing I like about this whole series, in case I haven't mentioned it before, is that each book ends with an index, which makes the book very easy to search.
The RSN Essential Stitch Guide for Stumpwork is a book that grew on me. I went through it several times, and each time, I liked it more. It's definitely a nice, useful resource for embroiderers. Even if stumpwork isn't your thing, there is enough good content in here for various techniques that can be used in other types of embroidery, that the book is worthwhile to have in your reference library.
In comparing it to other books on the topic, I think it is more instructive than Jane Nicholas's books (which are "project oriented" books that assume some knowledge of stumpwork), and I'd say it's on par with the A-Z of Stumpwork, with the added advantage that it's a lot less expensive. It doesn't necessarily cover as much, but what it does cover, it covers well and thoroughly. It's a valuable little book at a great price.
Where to Find It
You can find the RSN Essential Stitch Guide for Stumpwork available through the following book affiliates:
In the US, the Stumpwork Stitch Guide is available here through Amazon.
Worldwide with free shipping, you can find the Stumpwork Stitch Guide available here through Book Depository.