A reader over on Ask & Share posted a photo the other day, asking for help identifying a stitch. I've already answered her question with what stitch technique I reckon is used here, but I thought I'd toss it up to you all to see what you make of it, hoping I'm not too off the mark!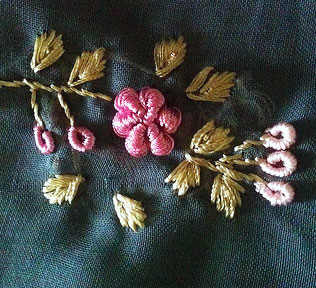 The stitch in question is the one used to create the pink flower in the middle of the design.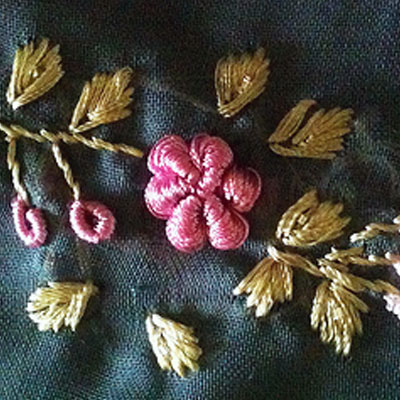 I've tried enlarging the photo a little bit here, without using too much resolution. It's a neat looking flower, and I can see it having all kinds of applications in needlework – Brazilian Embroidery, crazy quilting, general surface work, embellishment of children's clothing, and so forth.
The first thing that came to mind – bullion knots that are tapered. They're wide at the outside end, then stitched into the middle with more tension on the working thread, to pull the bullion to a point.
I'm not exactly sure if this is the case, but in looking at the stitch, it's the only thing that makes sense to me.
Anyone have a different take?
I'm going to play with bullions a little later this weekend to see if I can imitate this look and recreate a similar flower. Anyone up to the challenge of doing the same? If you do it and take pictures, post them on your blog, flickr, online photo album or facebook and let me know! If you don't have any of the above, how about taking photos and sending them to me? It'd be fun to see what everyone comes up with! I'll compile a post with any results you send in (including links and so forth to your work), and anything I come up with.
Any input on the stitch above would be most welcome! Feel free to leave a comment below!
Until tomorrow – have a terrific Thursday!