Normally, I write about embroidery. Today, I'm writing about paint.
Sometimes, you can combine the two concepts. You can embroider painted things. You can paint embroidered things. You can paint something that looks embroidered. Or you can embroider something that looks painted!
These sweet little strawberries are painted by Carolyn Phillips, of Sunshine Designs. Carolyn paints little pretty things on silk dupioni, and I think that's how we started chatting about her paintings – we were discussing silk fabric. Carolyn does all kinds of interesting things with fabric.
But these strawberries – they are especially sweet!
It amazes me that this little stem of strawberries and bug is only about 2.5 or 3″ high. Can you guess what I told Carolyn when I saw it up close?
Of course I told her it would make a beautiful embroidery design!
Stumpwork comes to mind, too – and I think it's the bug's fault.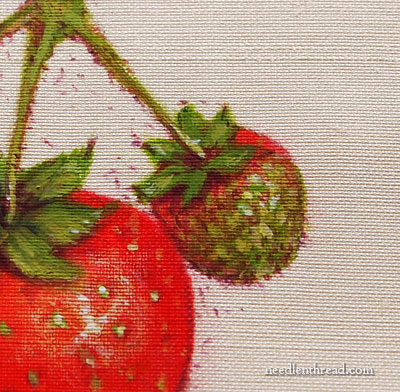 But I feel as if I'm being a bit too narrow-minded. Why is it that when I see something like this – so perfectly rendered in paint – I have to immediately think "embroidery"??!
Look at the dimples around the seeds on the larger berry. That strawberry padded and embroidered and spotted with seed beads…
And all the green on the smaller one? You know I'm thinking about French knots.
That is how my poor warped mind works.
Carolyn also sent along a scan of all the stages of painting the strawberries. This was the first stage. It is rather vague, but you can see the idea beginning to come alive.
This is exactly what happens with embroidery. At first, working out a design, things look a bit vague. But with perseverance to that point where you place those final details with needle and thread, the thing comes to life. With just the right "strokes," the piece becomes what you envisioned.
I just thought I'd share my strawberries from Carolyn with you. They cheered my day! And I hope they do the same with yours!