Yesterday, I took a small step.
All hand embroidery projects are made up of steps of some sort – some are large, some are small, and this step, though indeed small, was satisfying.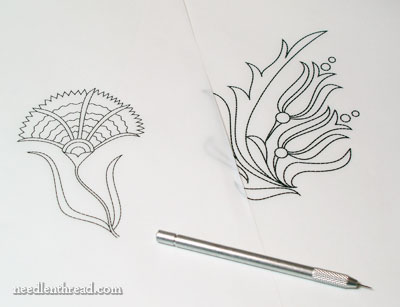 I've had these embroidery projects stewing for a bit, and now, they are finally underway. The design on the left has been prepared for a while – it's the same design I used to demonstrate the prick-and-pounce method for transferring embroidery designs onto fabric.
The design on the right needed to be drawn up into a clean pattern (I used Inkscape for that).
After printing out the sizes I wanted for both patterns, I pricked them using this paper piercing tool from Nordic Needle (size fine). Sometimes, I use my tambour needle handle, loaded with an eyeless needle (or tatoo needle), but my tambour needle handle is presently loaded with a tambour needle, so it wouldn't do the job. Incidentally, to prick paper, you can also use a fine needle with the eye pushed into a cork. Works just as well!
Today, I'm picking out one set of threads from my present stash for the design on the right. And tomorrow, I'm going thread shopping for the design on the left.
Yes. You heard that correctly. I'm going Thread Shopping.
Normally, wouldn't we all bubble with delight at the mere notion of shopping for embroidery thread?! Truly, though, considering the amount of thread that is currently growing out of my ears around this place, it borders on ludicrous that I have to go thread shopping.
Still, there is something I want to show you. And having just the right threads is a must.
(Any excuse to go thread shopping! Thanks for being my excuse!)
So, that's a small step.
I like small steps. They make me feel as if I've accomplished something!
May your Friday be replete with small steps!