If you read my review of Carolyn Pearce's new book, Home Sweet Home: An Embroidered Workbox, and you decided you just must have a copy, well – you're in luck! Today, courtesy of Country Bumpkin, I'm giving away a copy of the book to TWO lucky winners!
And, on the even brighter side of things, I've got the books in my possession, so as soon as the give-away is over, if you win, your copy will be on its way to you, and you'll have it possibly before it's even available in stores. In the long-run, this doesn't mean a lot, but if you're super-eager to see it, this might be a good way to get your copy post-haste!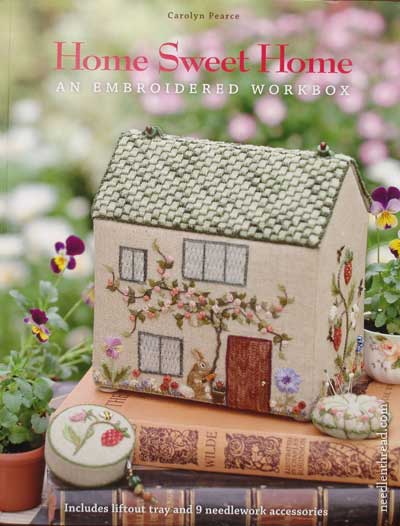 Just look at that gorgeous little cottage! You know you want to make one!
The give-away procedure is simple, but you really do have to follow the rules in order to be included in it, so read on…
Give-Away Rules
1. Leave a comment on this article, using the comment box below. (You can just click on that very long link, and it will take you straight to the comment box, even if you're receiving this post in your daily e-mail.)
2. In your comment, answer the following question:
From what you've seen of the book, what's your favorite part – the house, the accessories, the instructional content? What appeals to you most about this lovely book?
3. Make sure you leave a recognizable name, either in the comment or in the "name" form. If your name happens to be Mary, for example, you may need to clarify a little more about yourself: Mary from Albuquerque, Mary in Maine, Mary Blue Shoes, or something to that effect. You'll want to differentiate yourself slightly from others with the same name. (I only make a point of this so that there's no mix-up.)
4. The give-away closes Tuesday, December 6, 2011, at 5:00 am Kansas time, so get your comment in before then!
5. Check back for the winners, which I'll announce on Tuesday. The winners will need to contact me with a shipping address within 48 hours.
Simple dimple!
Best of luck to you!
Thanks for your participation! This give-away is now ended – keep an eye out for similar upcoming events on Needle 'n Thread!
It may take a while for your comment to appear, as comments are moderated individually by yours truly. If you don't see your comment right away, don't panic! It will eventually show up!