Finally, finally! I reached a goal!
What happens to you when you approach a goal in an embroidery project? Not necessarily The Finish of the project, mind you, but one of your intermediate goals?
This is what happens to me:
As I near the goal, I find myself slowing down, almost to the point of sluggery. I'm pretty sure I should be speeding towards the goal line, but instead, I start to sputter. And though I'm antsy to reach the goal, I can't … seem … to … get … there. It's like running in slow motion in a bad dream! But during that time, my mind is already moving ahead to the next step, setting the next goal. And this works to my advantage, because while I may be sputtering about as I reach an end point, mentally, I'm already lining myself up to charge out of that start gate again.
So, this is the intermediate goal I reached this past weekend: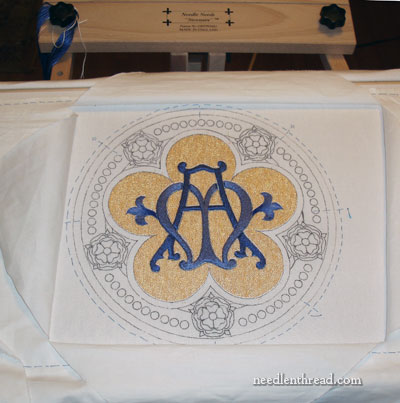 The long & short stitch filling on the monogram on the Medallion Project is finished!
That's not to say the monogram is finished – it's not. But the filling is! And that is a Huge Relief. I feel as if the rest of the project will be a breeze in comparison. I'm not sure why I feel that way – those roses (all five of 'em) are looming in front of me! But for some reason, the filling on the monogram was a huge hurdle, and I'm glad I've jumped it.
Here's a closer shot, under direct bright white light. There are some strange looking aspects to the monogram – like the splits at the top of the M. These are to accommodate the gold thread that is going around the monogram.
And that question of gold thread brings me back to my laborious finish. During the final hours of stitching, I contemplated the gold thread that I would be using around the monogram to outline it. And by the time I took those final stitches in the monogram, I had made up my mind.
And of course, that meant starting right away on the next stage, so that I could see if the plan would work! By the time the long & short stitch filling was finished on the monogram, I experienced a huge surge of excitement to move on to the next phase. And so… in I leapt!
That's how my embroidery sessions go: some, in slow and plodding stitchery, creeping towards an end point; others, in great bursts of enthusiasm and excitement, anticipating the outcome of some idea or plan.
What about you? Do you set intermediate goals in your stitching endeavors? When you do, do you find yourself flying towards each intermediate goal, or do you experience a slowing down, right before you reach it? Once you reach your goal, are you itching to start out on your next segment, or are you hesitant to jump ahead? What's your state of mind as you get close to accomplishing a stitching goal? Leave a comment below and tell us your thoughts!
If you want, you can click here to follow along with the whole Medallion Project from start to finish.
If you'd like access to all the tips and techniques discussed in the Medallion Project, including complete step-by-step coverage of the Tudor-Style Rose, conveniently collected in one document, interlinked, referenced, and indexed, why not add the Marian Medallion Project e-book to your library? It's packed full of all kinds of embroidery tips for undertaking a project like this, all in a convenient electronic format for easy searching.