So, who won the Royal School of Needlework Handbook of Embroidery?! Last week, I reviewed the RSN Handbook of Embroidery, and followed up with a give-away of a copy, thanks to Lynn Hulse, who contributed the book. Today, I'm happy to announce the winner.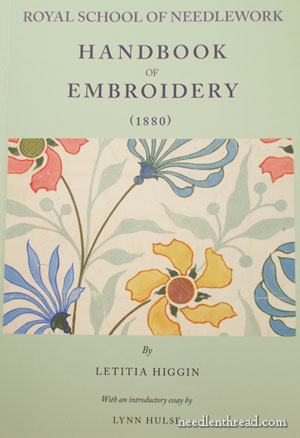 As I mentioned last week, this book is a must-have for the historical needlework buff. Anyone interested in the history of needlework will find the introductory essay by Lynn Hulse a fascinating exposure of the early years of the Royal School of Needlework. And the handbook itself is a little gem for instructional purposes.
Incidentally, this year (Queen Elizabeth's Diamond Jubilee) happens to be the 140th anniversary of the founding of the Royal School of Needlework. The RSN is celebrating their Royal Connections with special exhibition tours in March, May, and July. They'll also have a special sampler available early this year, marking the Diamond Jubilee. So if you are traveling in that direction, or somewhere nearby already, you might want to look into visiting the RSN during one of their tour weekends this year. You can find more information about visiting the RSN on their website.
And now, on to the winner…
The winner of the RSN Handbook of Embroidery is Melissa Bird! Congratulations, Melissa! Drop me a line with your mailing address, and I'll get that in the mail to you this week!
If you're wanting your own copy of the RSN Handbook of Embroidery, you can find it available through the Royal School of Needlework. I don't know of any booksellers outside the UK carrying it, but if you know, feel free to share the information in the comments section below.
And, on a final note, I was delighted to receive a collection of very nice, beautiful embroidery books from a quilting friend recently. I've decided to pass them on to you all. Over the next several weeks, I'll be giving away several very nice embroidery books, so do keep an eye out for them!
Enjoy the day!