It didn't take long to leap into the outlining of the monogram on the Medallion Project! I showed you the finished monogram yesterday – yes, it was wonderful to get the lettering all filled up with the long & short stitch! But all the while, I was dying to get to this part, eager to see if my plan would work, if the threads I chose were correct, if the monogram would look "finished" with the outline in place. I'm pretty pleased with the results and can't wait to charge ahead to finish up the outlining.
Today, I'll show you what I'm doing to outline the monogram, and down the road a bit, I'll give you some tips that help make the process a bit easier.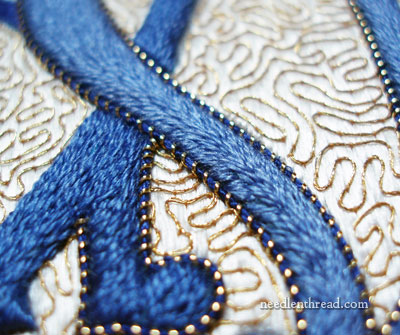 To create the outline, I'm using two threads: Soie d'Alger silk (three strands) in the darkest blue of the four shades of blue I'm using on the whole project, and a real metal (goldwork) thread called Lizardine, in size 1. You can see how to create this kind of twisted silk and gold thread edge by reading this tutorial on stretching pearl purl and winding it with silk.
Lizardine is a goldwork thread that is similar to pearl purl, but not quite the same – it's flat, compared to the round, beaded look of pearl purl. To see the difference between these two metal threads, you can check out my comparison of Lizardine and pearl purl goldwork threads here.
I've found that the Lizardine in size 1 is the perfect size for outlining the monogram. It fits right up next to the raised edge of the long and short stitch. It's a wonderful thread for this type of outlining. I find it easier to control than pearl purl, it holds its shape very well while still being a bit more flexible than pearl purl, and it pinches easily (with tweezers) into nice sharp corners.
In this photo, you can see all the threads I've used on the Medallion Project so far. In the scheme of things, it's not a long list! We have, from the background up, Soie Ovale (a flat silk) in creme; Elizabethan Twist (a real metal, 2% gold thread) couched in squiggles with a 100 wt silk sewing thread; Soie d'Alger (stranded silk) in four shades of blue, and Lizardine.
The outlining works up fairly quickly, so I should be able to finish it over the next day or so. Then I'll share some tips with you on the whole process of this type of stitchery. There are a couple little handy things to know, to help make this particular technique a bit easier.
Not that it's hard, mind you! That's the funny thing about goldwork embroidery – it's an exquisite embroidery technique and rather labor-intensive, but if you take the stitches themselves at face value, it's not really a difficult technique. So more on that, later!
You can follow along with the whole Medallion Project from start to finish if you like, by visiting this index of articles related to the project.
If you'd like access to all the tips and techniques discussed in the Medallion Project, including complete step-by-step coverage of the Tudor-Style Rose, conveniently collected in one document, interlinked, referenced, and indexed, why not add the Marian Medallion Project e-book to your library? It's packed full of all kinds of embroidery tips for undertaking a project like this, all in a convenient electronic format for easy searching.