Time for a Medallion Project update! I'm almost half-way finished with the M on the central monogram, and I'm absolutely itching to get to the finish line on this part of the project.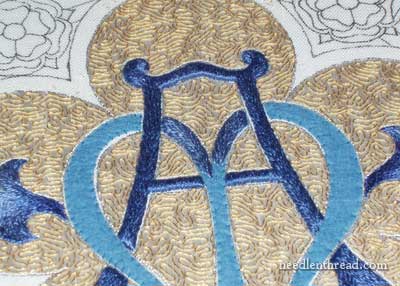 Beginning at the center top part of the M where the center column is split in two lines that meet the A, I embroidered both sides of the split and brought them down to the center column, and continued straight down the center column from there.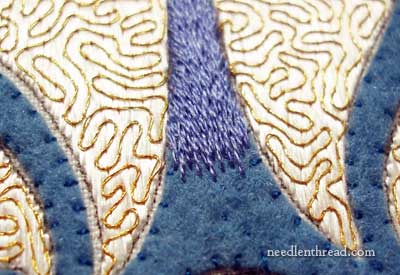 You can see that the long & short stitching really does follow that whole concept of long & short stitches, but not rigidly. If you look closely at this photo, especially right above the end of the stitching there, you can see that the side stitches are slanted into the middle, too. That's the best way I found of really covering up the sides of the felt and rounding off the raises area.
Perhaps that's a little more visible in this shot – see the area on the lower part of the felt that's in process" The stitches are obviously worked on a slant towards the middle of the felt. But the stitches in the center section are more or less kept straight, following the path of the felt. All the stitches work into each other quite well and provide good coverage.
Working down the outer right side of the M took a little longer than any other parts of the letters, because the design is quite wide there and requires twice as many stitches.
From farther away, this is a zoomed shot that shows better the gold and the silk together.
Just a bit more on the right leg of the M, and then the whole left leg, and this part will be finished! Next time we visit this project, that's where I'll be! (We could place bets on that, I suppose…)
If you're interested in following this project from its shaky beginnings, feel free to check out the Medallion Project Index, where all the articles relating to the Medallion Project are listed in order.
And of course, if you have any questions, comments, suggestion – feel free to leave a comment below!
Tomorrow, I'm giving away a book, so keep an eye out for that!