Here's your chance to add the Royal School of Needlework's Handbook of Embroidery to your needlework library! Today, I'm giving away one copy of the book, courtesy of Lynn Hulse. (Thank you, Lynn!)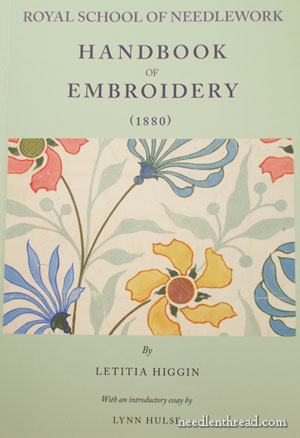 If you're a history buff, a textile buff, if you love hand embroidery and its colorful and exciting past, and if you are interested in embroidery technique, this book will be a welcome addition to your collection!
If you'd like a chance to win this copy, it's easy – just follow these simple instructions:
1. Leave a comment on this post (not via e-mail, not on another post on the site) by Monday, February 20th, 5:00 am (US CST). This link will take you directly to the comment form. The Give-Away is now closed! Thanks for participating!
2. In your comment, answer the following question:
What captures you about this book: technique, history, the Royal School, some of the above, all of the above, or something completely different?
3. Make sure you've included a recognizable name with your comment!
4. All comments must be left by Monday, February 20th, at 5:00 am CST. I'll announce the winner on Monday.
I'm looking forward to reading all your answers – it's always fun to hear what sparks your interests!
Tags