Last month, the final Nesting Place online class finished up here on Needle 'n Thread. It was a great class! My heartfelt thanks goes out to Bobbi Chase, who offered me the use of her design for the class, to Lamora Haider and her crew at Access Commodities, who were so helpful in putting together the fine supplies we used in the Nesting Place project, and to all the participants who made it a successful and fun class!
Now, you just have to let me do the Teacher Brag thing a bit here. If we were in school, I'd be pinning up these class projects on the bulletin board and lining the school hallway with them! Needle 'n Thread will be my bulletin board and my hallway today!
Though you might be tempted to think that all the needlebooks from the same class project would come out exactly the same, you'll see here that this isn't the case at all! Embroidery sometimes reminds me of handwriting – you can always tell that someone else has done this stitching or that stitching. And of course, when it comes to embroidery projects, there's always that option of personalization! I hope you'll enjoy seeing these darling needlebooks, the outcome of six grueling weeks of torturous embroidery!!
I'm not arranging the pictures in any particular order – just taking you through them with a little commentary. No names or anything – just the pretty results of a lot of stitching effort!
This is the needlebook we made. It is worked on Strathaven natural colored linen, with Fine D'Aubusson wools, Au Ver a Soie silk, and Londonderry Linen threads.
The back of the needlebook has a little nest on it, with two freshwater pearls nestled within. The name "The Nesting Place" was contrived by Lamora Haider, after the three of us sent back and forth some lists of semi-possible project names. When Lamora came up with this name, it was perfect indeed, for the needlebook is a nesting place, after all – a perfect place to nest favorite needles.
Everyone's birds came out a little different, each pair developing their own little personalities! I am really proud of the beautiful finishing work I've seen so far!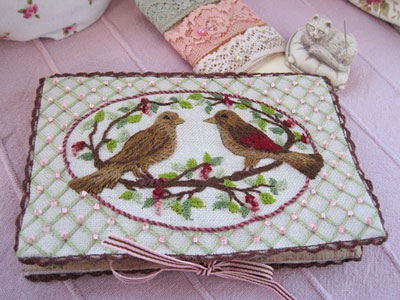 Many participants decided to personalize their needlebooks in different ways. I love it when this happens!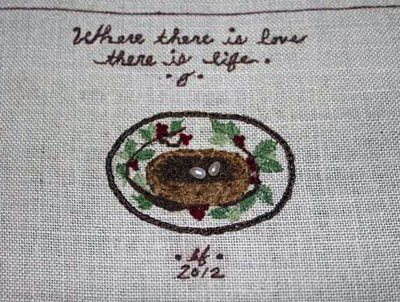 Some personalized with quotes. I thought this one especially appropriate and perfectly done.
And some personalized with…. critters! In fact, critters (especially of the wormy type) were abundant!
Some got adventurous with beads and sequins… and worms!
Did I mention the worms?
Oh, the miles and miles of buttonholing on that needlelace! (For some, I was told it felt that way!) And it came out beautifully!
The felt insert in the inside of the book was a perfect place for embellishment.
And of course, the signature is a great way to personalize any piece of needlework – initials and dates of all kinds abounded!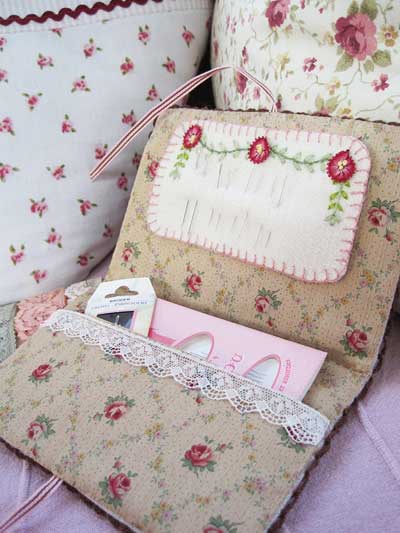 Little extra touches, like the addition of lace along the inside pocket, dressed up the inside of this needlebook.
Many of the participants made use of the Antique Pattern Library and the Patternmaker Charts websites to come up with patterns for monograms and initials.
The felt insert was really a favorite place to play with stitches! I like the inside-out buttonhole here!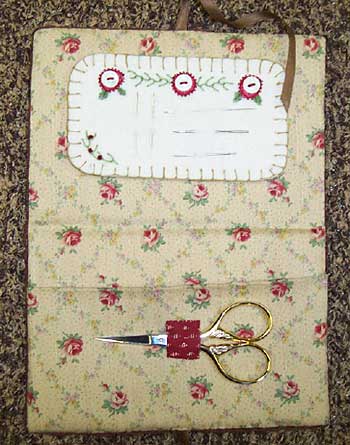 The addition of a little scissor loop was a brilliant idea!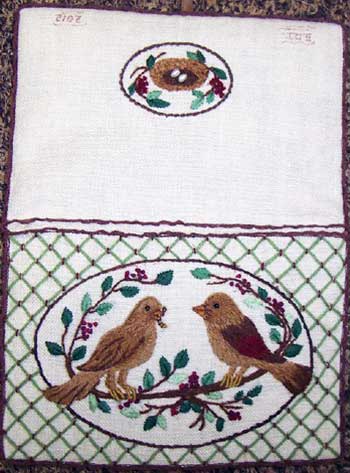 We have another worm – I think they might be getting ready to fight for it!
Very nice example of personalization – a name tag stitched in underneath the felt. Love this!
Did someone mention worms? Here's a cute little fellow inching along the needle felt.
A close up of beads and sequins to make flowery branches…
… and another touch of lace, with ribbon to boot.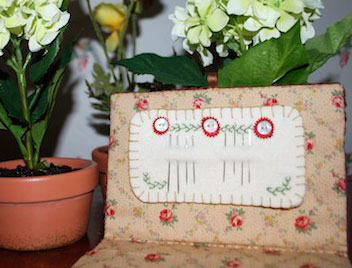 Feather stitch is my favorite way to make wispy twigs and branches, and I think these simple feather stitch accents are perfect.
Perfect trellis, perfect shading on the birds – and a really nice finishing job!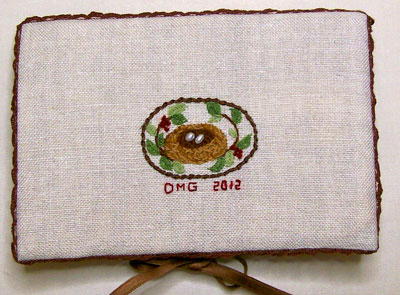 Another signature near the nest, and a perfectly blocked back…
… and some more pretty initials to mark the needlebook as one's own.
I thought it was a glorious class – we had great fun in the online classroom, and I enjoyed corresponding with other participants via e-mail. I hope it was as delightful for the participants as it was for me!
This was the last run of the Nesting Place class. It is a limited edition kit, because the fabric for the lining is a vintage fabric that is no longer made. However, there are more classes coming up in the future here on Needle 'n Thread, if you are keen to participate in an online class. The next one up (due to be announced … well…. pretty soon! still working out some details) is a needle painting class taught by Margaret Cobleigh. After that, I'll have a short run on a monogramming class, to test the waters to see if folks are interested in monogramming. And there are a couple other projects brewing for later in the year.
The advantage of online classes is that you can work at your own pace, without the expense of travel. You have access to the instructor for personal feedback and help all along the way, to get you to a successful finish. And you still have the opportunity to interact with other participants and get support and encouragement from your fellow stitchers. In this last class, quite a few friendships were formed, which I think is wonderful, considering that many of us are isolated in our stitching endeavors.
If you're interested in taking an online class on Needle 'n Thread, just keep an eye out on the website for the announcement for class registration.
Thanks again to all my fellow Nesters out there – and thanks to all of you for putting up with my Brag Wall! I hope you enjoyed seeing the projects!