Couching in its most basic form is among the easier embroidery stitches. Essentially, the couching stitch is just a little straight stitch taken over some other thread (or ribbon or wire) to hold it down. Couching with the simple straight couching stitch can be decorative when couching a filled area, because you can alternate the placement of the couching stitches to make designs over whatever thread is being couched.
But you can also approach couching from a different angle: consider it simply as tying down another thread (or ribbon or wire) with any stitch, besides just a straight stitch, and suddenly, many possibilities open up!
For today's Stitch Play, I'll show you some different takes on couching. You can apply these (and any others your imagination can drum up) when couching one thread, multiple threads at a time, a beautiful ribbon, or even metal threads.
This is your basic couching stitch. The purpose of those little pink straight stitches is to hold down those two bright yellow strands of embroidery thread.
Unless you're trying to achieve a very random, somewhat fun-n-funky look to your stitching, couching always looks best when the stitches are uniform in size and evenly spaced. Sometimes, it's hard to achieve uniformity in spacing. Depending on how you're using the couching (along a line of thread or as a filling) and the amount of contrast between the couched thread and the couching thread, if the spacing is slightly off, it might or might not be noticeable! For example, if you have a high contrast between your couched thread (let's say it's white) and your couching thread (we'll say it's red), the occasionally misplaced stitch will show up a lot clearer! But if you're couching a red thread down and using the same color thread to couch the red the thread down (or a shade close to it), uneven spaces won't be as easily noticed. So, the point: the more contrast between the two threads, the more important it is to mind your spacing!
But who says couching stitches always have to be simple straight stitches? Did you know you can use a basic blanket stitch to couch down another thread? Using blanket stitch to couch another thread can be quite a decorative take on couching. The blanket stitch will form a twisted line on one side of the couched thread. Imagine this worked over a flat ribbon – it could be very pretty, which a nice contrast in texture between the flatness of the ribbon and the twisted edge formed by the blanket stitch.
For even more variation, you can even group your blanket stitches different ways, in groups of two or three or four, with longer spaces between each group.
Little cross stitches work quite well for couching down other threads! And they can make quite an effective pattern on an area filled with couching, as they are bolder than regular couching stitches, and the cross stitch can morph into lattice-type designs quite easily, when alternately spaced on each line of couching.
Herringbone stitch works very well to couch down threads. It's a pretty stitch in its own right, and working it over another thread or ribbon further enhances it.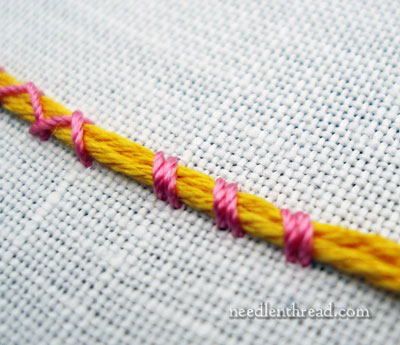 Going back to the simple straight stitch, you can change the look of the straight stitch by grouping two or more straight stitches together and working them on an angle. Imagine filling an area with couched threads, with slanted straight stitches like this, slanting in opposite directions in each row. You could work up some interesting filling patterns this way.
So, you can see that couching can go beyond the straight stitch. Once you start thinking in terms of other stitches to hold down threads, ribbons, or wires on your embroidery, possibilities abound!
Go ahead and have some fun with couching – see what you can come up with! I always think couching is an under-appreciated technique, but once you start messing around with it, you'll find out how fun and versatile it is.
Stitch Play is a new series on Needle 'n Thread, in which we explore different stitches, techniques, and combinations in photo tutorials. If you have a stitch or technique you'd like to see worked out in Stitch Play, feel free to leave a comment below and let me know! I'll see if I can work something up for you!