Well, here it is! Yvette Stanton's new hand embroidery book, Portuguese Whitework: Bullion Embroidery from Guimarães is out and available. And golly! It is beautiful!
If you're familiar with Yvette's other books on various types of lesser-known, beautiful whitework techniques, you won't be surprised that this one is superb. I have to say, though, out of all her whitework books, so far, this one is my favorite. Perhaps it's because her books just keep getting better and better, or maybe it's because I have an affinity for the combination of drawn thread embroidery and surface embroidery. Guimarães embroidery just does this combination so well!
Let me show you what's in the book – if you like whitework, this is bound to tickle your fancy!
Portuguese Whitework: Bullion Embroidery from Guimarães is a combination instructional manual / project book. As you can see from the cover, bullion knots and drawn thread embroidery figure into Guimarães embroidery techniques. If you're not a fan of the bullion knot, don't be intimidated! Really, they just take practice, and Yvette offers clear instructions and all kinds of encouragement to help you get your bullions right!
The book begins with an explanation of what Guimarães embroidery is and what it entails, followed by a nice history of the technique.
I always appreciate a good history of regional techniques. It helps place the technique in context and gives it roots. I like that!
Yvette peppered the history section with some beautiful examples of embroidery from the Guimarães area of Portugal, so you can get a sense of where this style of embroidery is coming from, how it has developed, and how the embroidery has been used.
Following the history section, we get materials – all the supplies you need to work up your own Guimarães embroidery projects. There's an explanation, too, of the colors often used in Guimarães embroidery. Not all Guimarães embroidery is whitework, per se, but Guimarães embroidery is typified by a very limited palette of colors, and Yvette explains all that so that there's no confusion.
Then we get into the meat of the book! The book is really structured around the projects, which cover a whole range of levels of work. From smaller, simple bookmarks to elaborate tablecloths and samplers, there's something in this book for everyone. Do you want to work up a quick weekend project? Or do you want to create a Monumental Masterpiece that will take a bit more time? You'll find both, and lots in between, among the projects.
You'll find little pieces like this framed panel to whet your appetite…
…. and slightly larger projects, like this square mat (cupcakes not included) to challenge you further.
You'll find finished objects, like this biscornu, which can be used as a pin cushion…
… a whole collection of little ornaments…
… a stunning table runner…
… an unbelievable tablecloth!…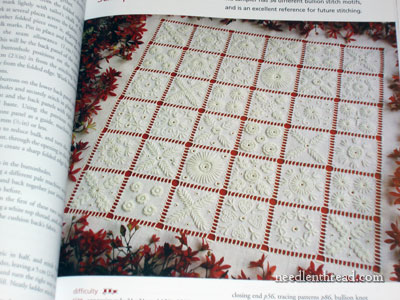 … a sampler (my favorite – would love to work this!)… and bookmarks, a cushion, a hand towel. Lots of projects to choose from, and something for everyone.
Each project is accompanied by instructions that take you step-by-step through the project. The instructions are mostly text, with diagrams when necessary. The actual instruction, though, in the embroidery techniques, is all presented in the second half of the book, in clear, step-by-step diagrams.
The technique instructions are divided into drawn thread embroidery instructions and surface embroidery instructions, since Guimarães embroidery is made up of both. The drawn thread instructions concentrate on overcast bars, addressing all types of arrangements of overcast bars thoroughly. Yvette takes the stitcher through every step of each technique, showing you how to turn the corners, how to secure the threads, where to hold your stitches and what's going on under your fingers while you're holding them, where and how to start new threads, and so forth. These are the little details that set her books apart – she really covers everything and she doesn't leave you wondering.
The drawn thread section is followed by surface embroidery instruction, which covers all the surface embroidery techniques used in Guimarães embroidery.
The instructions here are also presented with step-by-step illustrations.
And then there's a little section on additional, helpful techniques, which addresses some finishing questions, like damp stretching, hemstitching, preparation for framing, and so forth.
But wait! There's more! Patterns, of course! The patterns for the projects are printed on separate sheets that are folded into a plastic sleeve affixed to the inside of the back of the book.
I probably don't have to tell you this is a lovely book – you can see that for yourself! If you love whitework, drawn thread embroidery, or regional embroidery techniques from around the world, put this book on your list! It's a great project book and a great instructional book. In fact, the instructions are definitely universal – they'll transfer to all types of embroidery techniques.
Where to Find It
You can find Portuguese Whitework through the following book affiliates:
Worldwide with free shipping, you'll find Portuguese Whitework available here through Book Depository.