Schwalm whitework embroidery is a folk embroidery that developed in the Schwalm region of Germany. It is characterized by its folk design elements (tulips, hearts, flowers, and so forth) and drawn thread (openwork) fillings.
Quite a while ago (almost three years, to be exact!), I reviewed Luzine Happel's book, Basic Principles of Schwalm Whitework. In my opinion, this is still the definitive guide to Schwalm embroidery. Luzine has devoted her stitching life to the study, development, and teaching of Schwalm embroidery, so she is a pro at this stuff! She does beautiful work, and her books are clear instructional manuals that take the stitcher step by step through the techniques of Schwalm whitework. Luzine has written several books devoted to Schwalm, including The Basic Principles of Schwalm Whitework (the perfect beginner's guide), Fancy Hems (devoted to gorgeous openwork and drawn thread hems that can be used on Schwalm pieces), and a number of books in German on the almost limitless openwork filling patterns used in Schwalm embroidery.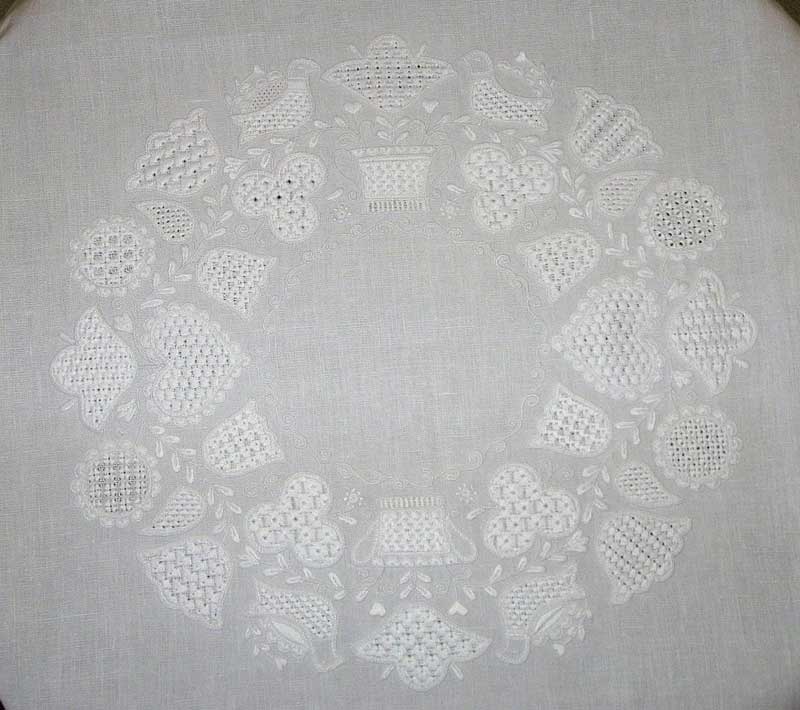 Now Luzine is on another quest – she is rewriting her book, Basic Principles of Schwalm Whitework, for lefties! You heard it – a technique book written for the left-handed stitcher! This is a big deal, and those of you who are left-handed, I'm sure, realize how much of a big deal this is! You see, there is a definite shortage of embroidery books for left-handed stitchers. Yvette Stanton's Left Handed Embroiderer's Companion sets the bar for the stitch dictionary for the lefty (every left-handed stitcher should own a copy), but are there actually any technique books that teach a specific embroidery technique, just for lefties? To my knowledge, there isn't. So I think this is exciting news for the left-handed stitcher!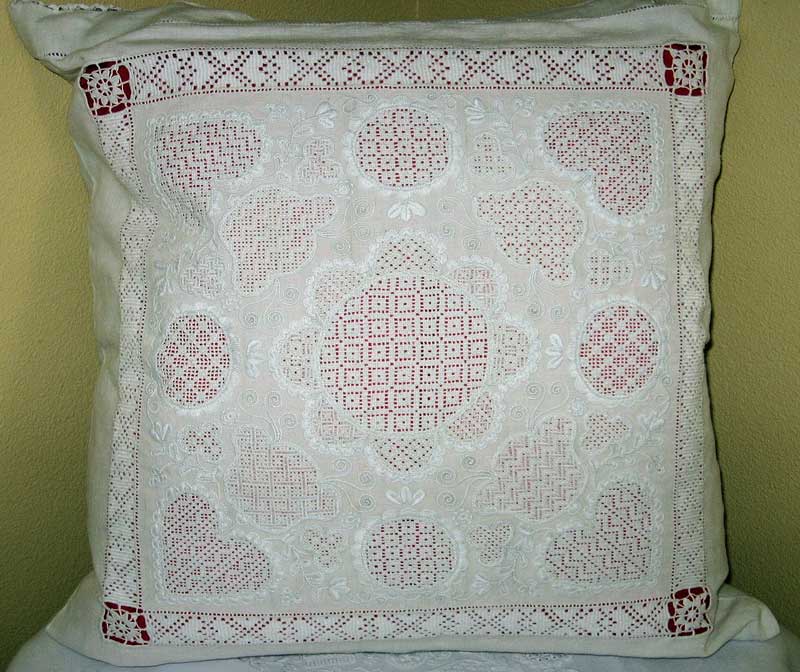 However, to publish the English edition of the book for left-handers, Luzine needs a little help. To that end, Luzine asked if I would have a give-away of sorts, to ferret out some interested stitchers who would like to learn Schwalm while at the same time giving her feedback on her book.
The give-away is a combination, then, of an opportunity and a challenge – an opportunity to receive the book and learn from it, and a challenge to follow the book through the project presented in it, working the project with the materials that Luzine will supply and giving Luzine feedback and communicating with her with any questions or suggestions as you go.
Those willing to participate will receive the book, the linen with the design stamped on it, and the needles & thread to complete the project taught in the book (pictured below). If there are more than 3 people eager to participate, I'll randomly draw three winners.
Requirements
To participate in this give-away / challenge, then, there are a few strings attached. These are the strings:
1. Some ability to embroider, but no real knowledge of Schwalm embroidery
2. An interest in learning Schwalm and a willingness to do elaborate work (the instructions are step-by-step, and the book is written for beginners)
3. Left-handed
4. English speaking (and writing)
4. Willingness to test the descriptions and instructions in the book by working through the book on the project and communicating with Luzine about the book as you work through it, reporting on the clarity of each chapter and helping her to smooth out the translation and make the instructions clear for left-handed stitchers.
This is the project presented in the book. The design is repeated four times, to form a square in the center of a 35″ square table cloth. The design is worked on a beautiful German linen that is traditionally used for Schwalm whitework. It's a nice linen and a pleasure to stitch on. The thread used for the project is coton a broder in various sizes. The only thing you really need to supply is a hoop!
While there's no actual material compensation for the challenge involved (aside from about $90 in supplies), you will have the satisfaction of learning a new technique and of helping out other left-handed stitchers, by contributing to the final editing of the book.
So, are you up to the challenge? Have you been wanting to learn a new technique? Are you drawn to whitework? And are you left-handed? Remember that you must fit the requirements above and be willing to work through the project and give Luzine feedback.
If you think you'll be a good fit for the project and are eager to participate, all you have to do is leave a comment below. Please be sure to include your name and your e-mail address in the correct lines on the comment form, so that we have a way to contact you.
And for the rest who don't fit the description above, never fear – tomorrow, we'll be talking about a different kind of whitework embroidery, and I'll follow that up with a give-away for everyone, of a glorious new book that I've been dying to see, and that just arrived on my doorstep yesterday!