Last year, I shared with you some gorgeous needlepainted pictures in a type of embroidery called "Su Embroidery" – it is a Chinese style of embroidery from Suzhou, China, and it is amazing embroidery!
Now, thanks to Margaret Lee of Adelaide, South Australia, and Country Bumpkin you can learn Su Embroidery techniques via the handy "mechanism" of a kit.
One of the best ways to learn a technique (if you can't attend a class) is to invest in a kit produced by a master in that technique. Find a technique that entices you, then find a designer who produces kits and books focusing on that technique, and use the kit as a learning tool. It works! If you treat the kit as a learning exercise and work your way through the designer's steps to complete the kit, you'll learn much about the embroidery technique. The experience may not always be roses and sunshine and perfect embroidery stitches, but you will definitely progress (and usually by leaps and bounds rather than baby steps) towards a better understanding and ability in that particular technique.
So, if Su Embroidery interests you, you might want to take a look at these complete, inclusive kits by Margaret Lee. I'll show you one…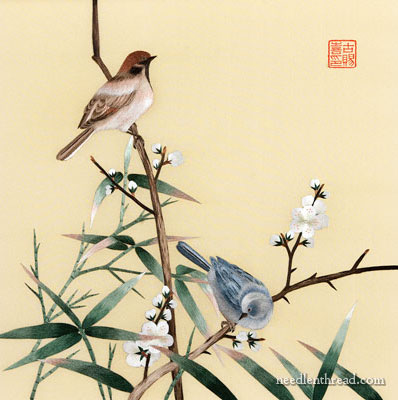 The kit that I have is called Heralding Spring. It features two little birds perched on flowering twigs, surrounded by a bit of green bamboo foliage, and all on a golden background.
The kit came packaged very neatly in a sturdy decorative red box, with a lid that folds back to reveal the contents within. Love the box!!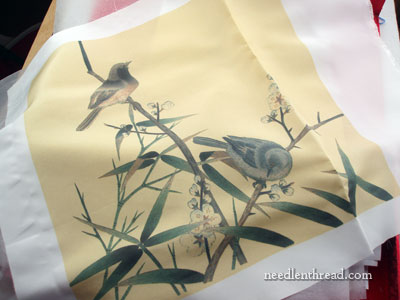 In most Su Embroidery, the picture to be embroidered is actually printed on the silk ground fabric. You can see clear examples of how the Su embroiderer works in Glenn Ketchum's book, Threads of Light, which I reviewed a while ago. The embroiderer works on the printed fabric, with a large photo or painting of the image being stitched close at hand, to refer to while choosing colors of silk and stitching. Some pieces of Su Embroidery have, literally, hundreds of colors in them.
Margaret Lee's kits include this pre-printed ground fabric, and you'll notice that the image of the actual printing on the silk is not as clear or vivid as the photograph. But with your embroidery, you will make the piece that clear and vivid – the embroidery over the printed image is what brings the whole image to life.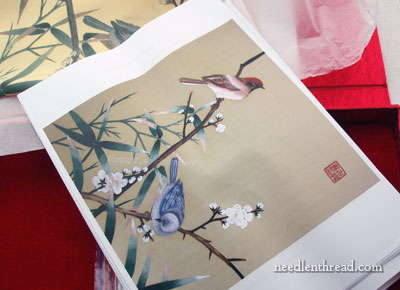 Also included in the kit, of course, is an instructional packet, beginning with a clear, larger image of the completed embroidery.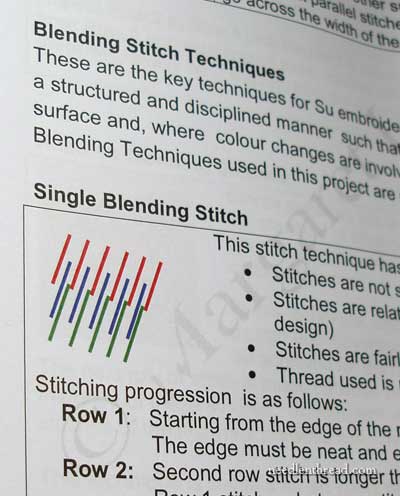 The instructions for completing the embroidery are well written and clear. They're presented in text and diagram form, in the manner pictured above. After reading through the instructions, I'd say the techniques presented in these kitted projects are not for the beginning stitcher who has never held a needle before. But, for the determined beginner or the budding intermediate stitcher who has at least a basic working knowledge of embroidery, it's feasible to work the kits. The instructions are clear and they lead you through the whole process.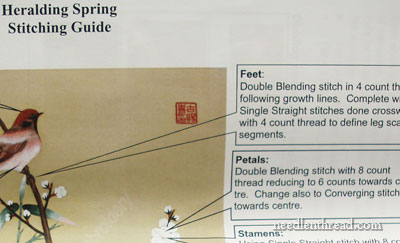 Included in the instructions is also this handy stitching guide, with indications of what type of embroidery goes where on the overall design. I do like it when a clear stitching guide is included in any stitching instructions, so I was happy to see this!
And then, of course, there's the thread! The silk is separated according to the elements of the design. Now, this is the thing about this type of Chinese filament silk: getting used to the thread may, in fact, be the most difficult part of the project. If you are drawn to Chinese or Japanese embroidery, though, you will eventually have to conquer the fear of filament silk. So don't intimidated by the thread. Just make sure you've scoured your hands and smoothed 'em up a bit before grabbing a hank of this thread!
The kit also includes the needles necessary to complete the project, in a handy little needle case.
If you have a hankering to learn techniques of Chinese embroidery, these kits strike me as a good way to do that. They're much more economical than traveling to find an instructor in the techniques, and there are very few instructional books written on Su Embroidery. This is the first time I've seen kits this thorough for Su Embroidery, too. When you do find kits for this technique, they generally include the printed fabric, the thread, a picture, and maybe (but not always) a paragraph of how-to explanation. They don't offer much to go on! So it's very nice to see the thorough instruction in Margaret Lee's kits, along with all the necessaries to complete the project.
And did I mention I like the red box?!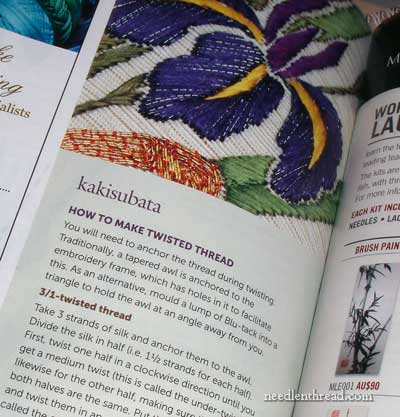 Margaret Lee is also featured in the current issue (#74) of Inspirations. She has a nice little section on how to twist flat silks, to go along with her project in the magazine, which is a Japanese embroidery piece featuring irises.
I like this project very much! Often, Japanese embroidery strikes me as somewhat flat and cold, but this project, while adhering to the delicate and sophisticated beauty of Japanese embroidery, also has a certain depth and warmth to it that I like a lot! And I love the way she interspersed the goldwork leaves with the silk leaves – so beautiful!
You can find Margaret Lee's embroidery kits available through her website, here.
Wishing you a splendiferous weekend – with at least a wee bit of time with your needle and thread!
Tags