Oh dear. I seem to be on a contemplative kick – musing still over the whole cost-quality-time-value question of embroidery! If you're in the mood to join me, do pull up a chair and pour yourself a cup of coffee. (You might need it to stay awake!)
Your comments on the blog articles from Monday and Tuesday have me thinking about a lot of things relating to embroidery and how we value our hand embroidery work. Following up on Tuesday's discussion of the material cost involved in creating the Medallion Project, another aspect I consider when musing over the notion of Value is…
When I ask myself, "What is the purpose of this hand embroidered item?" the answer will often determine what I put into the project.
To illustrate the point, let's consider a few situations.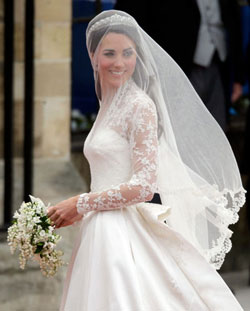 AP Photo / Gero Breloer from OregonLive
Imagine a Royal Wedding. It doesn't take too much imagination these days, given 2011's widely publicized event in the UK. I'm pretty sure I can safely say that, if this dress had been a cotton frock embellished with plastic beads or DMC memory thread and took a weekend to sew up, while it may have cost less to produce, it would not have been appropriate to the setting or the situation. If nothing else, the public certainly would have been disappointed, and surely the royal family would've raised a serious eyebrow (or two)! We all would have recognized an incongruity between the event and the hypothetical frock.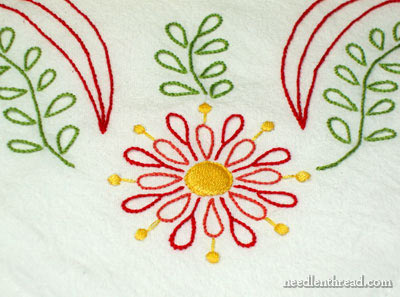 Same argument, different angle: Consider this hand embroidered flour sack towel. It's meant to be used in the kitchen, to line baskets of food or even to wipe down countertops or dishes. If it were embroidered with real gold threads, something would surely be amiss. If I had invested in real gold threads and put 400 hours into embroidering this flour sack towel to be used in the kitchen, wouldn't you think I'm missing a stitch or two upstairs somewhere?
Purpose Determines Much
So purpose determines much when looking at the investment (of both money and time) in an embroidery project, and in turn, it effects the value of the piece.
When it comes to ecclesiastical embroidery, which is created for a specific purpose, and which is expected to be appropriate to that purpose, the reason it is expensive is because the materials, the skill, and the time involved to create the piece reflect the appropriateness of the piece to its purpose. The best materials affordable and available are used; a certain skill is required to create the piece; and it usually takes a good amount of time to produce something appropriate for ecclesiastical use.
The Supply Chain
So while it may be surprising to some that the supplies used on the Medallion project seemed expensive, in relation to the purpose of the piece, the cost of supplies is almost negligible.
The cost of goldwork and fine embroidery supplies may seem expensive, but in fact, considering the investment required to produce quality embroidery supplies (usually by small businesses that are taking large risks), considering the skill it takes to create, weave, dye, spin, or even "engineer" threads or fabric that are beautiful, that are a joy to work with, and that will withstand the test of time, and considering the cost of raw goods and the cost of labor in markets where quality control actually exists, the ultimate cost to the consumer for quality needlework supplies should not be too surprising.
This doesn't mean that I use the same quality of supplies for every single stitched item I make. (Remember the kitchen towel?) It just means that purpose is one facet of the whole question in determining what I put into a project.
As for the cost of labor (time and skill), that's a whole different question, and one we can chat about later, if there's interest. It seems to be a predominate point of curiosity among many stitchers or Makers-of-Things-by-Hand. It's certainly another aspect of the whole question of Value, but it, too, is a multi-faceted question. I thoroughly agree that the hand embroiderer today creating something that is truly of value doesn't necessarily get paid its "value." But then again… what the embroiderer deems fair and what the market or consumer seems fair is another question, too.
And all this being said, the exact financial compensation for the medallion project is really neither here nor there, in the scheme of things. I will tell you this: I am fully compensated for the work I put into it. But that statement doesn't necessarily involve a massive financial figure! There are other forms of compensation, when it comes to making something like this.
As always, comments, insights, musings, thoughts – all are welcome! Have your say below!
If you'd like access to all the tips and techniques discussed in the Medallion Project, including complete step-by-step coverage of the Tudor-Style Rose, conveniently collected in one document, interlinked, referenced, and indexed, why not add the Marian Medallion Project e-book to your library? It's packed full of all kinds of embroidery tips for undertaking a project like this, all in a convenient electronic format for easy searching.