Last week, I told you about the iron-on transfers from Mani di Fata, which I purchased at Lacis while on vacation. Here's a little towel I worked up, using one of the corner designs in that package. I'm also going to show you (gasp! shock! horror!) the back of the embroidery.
As I mentioned earlier, my favorite way of transferring an embroidery pattern – even if it's an iron-on – is actually by tracing. That's what I did with this particular towel. I taped the iron-on to my little light box and traced the design on using a regular mechanical pencil with #2 lead. There are other ways of transferring designs, of course! I've got a bunch of them explained in the articles under Tips and Tricks for Hand Embroidery, if you're looking for some other way to get your embroidery design onto your fabric. For me, though, for this type of embroidery, I prefer just to trace with a pencil. It's easy, it doesn't require special equipment (you can use a sunny window instead of a light box), and it's really fast.
After transferring the pattern, I picked out colors. Generally, on towels, I stick with no more than four colors, and often only three. In this towel, I used four: green, red, a lighter orangy-red, and yellow.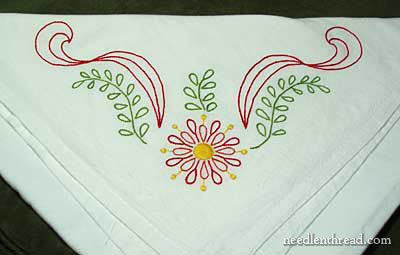 The design is pretty simple, but bold.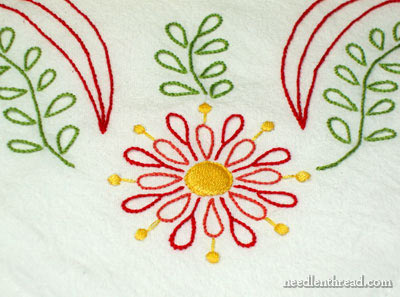 The entire thing is stitched in stem stitch, with the exception of the satin stitched dots around the outside of the flower and the satin stitched center of the flower.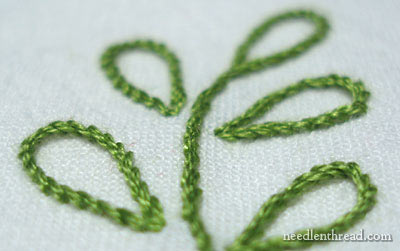 Stem stitch is an absolutely delightful stitch. It's my favorite for line patterns, because it's easy, quick to work, and its rope-like appearance is pretty. Despite arguments contrary to the fact, there is a difference between stem stitch and outline stitch, by the way! If you choose to use outline stitch for lines, you won't get that rope-like appearance.
The Back of Embroidery is generally a subject that comes up either in hushed tones or apologetic tones… I received a funny e-mail from a reader, asking Very Apologetically if I would mind showing the back of my embroidery some time. She was worried because, especially on the towels she was making, the back is not covered up. "Slugs" where the end of the thread is anchored were a concern.
You can see the "slugs" where I wrap the ends of my threads around the backs of the stitches to anchor them. I either wrap (whipping around the backs of the stitches), or just pull the threads through the stitches, taking one extra backstitch around the back of the threads to anchor the thread. You can read about this under Ending Embroidery Threads, if you want. In any case, this is generally how I end stitches in a line on the back of towels.
In certain types of embroidery (needlepainting, goldwork, etc.), if I'm filling an area and I haven't filled it all the way yet, and I need to end a thread, I'll end my thread by taking it into an area that will be filled with other stitches and working several tiny backstitches that will hold the thread. It's the same concept as beginning with anchor stitches, only, in a filled area, you can work the little anchor stitches perpendicular to (and into) each other (without building up a lump!). I've shown this technique on the video tutorial on bullion rose buds, if you want to take a look.
But, on line stitches on the back of a towel like this, where I don't have anywhere to hide little anchoring stitches, I wrap the end of the thread through the stitches on the back. Yes, it makes a bit of a slug. But it's the back! So I think it's ok! Just trim your little fuzzies, and clean it up as best as you can, and I think it'll look fine for the back of the work!
Decorated flour sack towels are useful for a number of purposes besides just drying dishes, hanging on the fridge, wiping the countertop, or sopping up messes. They make terrific basket liners, for one thing. We use them to line bread baskets for serving bread in at the dinner table. You can fold the corners up over the bread to keep it warm, and if you put your embroidered corner on the top, it's very pretty!
Additionally, you can line gift baskets with them. This is great for wedding showers! Instead of wrapping the gift, put it in a basket lined with a towel, and fold the towel over the gift, with the embroidered corner on the top. A nice personal touch!
I like embroidering flour sack towels when I'm in the mood for relaxing, easy needlework that doesn't require any kind of thinking or planning. I usually keep a couple towels "kitted up" in my work basket, ready for moments when I need something to do with my hands, but can't afford deep concentration on needlework.