We seldom talk about it. We usually don't show it off. But it's always there. And sometimes, it's interesting and educational to look at it.
It's the Backside of Hand Embroidery.
When you look at The Other Side of Hand Embroidery, you're not usually looking at it from its best angle!
Many of us probably had a mentor at some point – a grandmother, an aunt, a teacher – who told us that the back of our embroidery should look as good as the front.
To that, I say Pshaw! Except in the case of reversible stitching, the fact o' the matter is this: the back never looks as good as the front!
Sure, you should strive to keep it neat and tidy. You don't want threads getting all confused and tangled back there. You don't want trails of threads showing through the front. You don't want massive heaps of knotty messes that cause your work to bulge unattractively.
But other than that… As good as the front? Mmmmmm….. I don't think so.
It's just not reality. In normal cases of regular surface embroidery, the back simply doesn't look as good as the front.
In the photo above, the gold threads from the front of the embroidery have been sunk to the back. But they haven't been anchored. No neat over-stitching there. Over time, the ends have become a bit of a jumble. This is not a route I'd go, necessarily… but it has been done often. I've scoured over the backs of many an old piece of superb ecclesiastical work where the gold threads end pretty much just like this.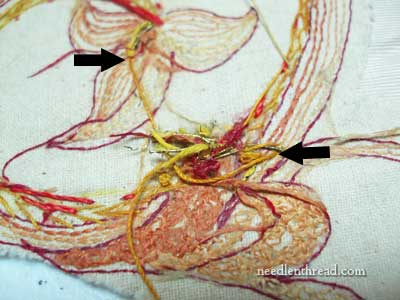 See the arrows in the photo above? They point to two ends of one strand of silk thread, carried all that distance, and caught up in a jumbled mess of sorts where some gold threads are sunk and the silk threads have been ended.
Don't get me wrong – I'm not offering an excuse for poor habit development! My approach to The Other Side is generally this: try to keep it neat and tidy, but don't obsess over it.
After all, if the back of your embroidery looks as good as the front of your embroidery, it probably took you ten times longer to do it, and gave you about half the pleasure.
So in case you're struggling with feelings of inadequacy because the back of your embroidery isn't picture perfect, this old piece of embroidery – which features some fairly advanced embroidery techniques, so we know it wasn't worked by a novice – should dispel any misgivings!
Stitch on, people! Stitch on!