If you are into historical embroidery, if you like stitching larger projects, if you do ecclesiastical embroidery and so forth, and if you work on larger embroidery frames, trestles are something you've probable thought about!
Maybe you've seen them in use in the photos on the Royal School of Needlework's website, or pictured in their books, supporting slate frames. Or maybe you've worked with large frames and experienced the discomfort of trying to support them on the edge of a table, and wondered if there was another solution to holding up your frame.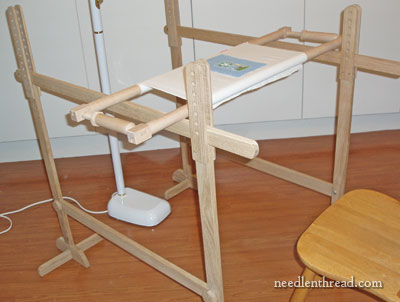 Trestles are the best support solution, really, for large, independent embroidery frames such as slate frames, Millenium frames, and large Evertite stretcher bars, but the've been pretty difficult to come by in the States. Over in the UK, the Royal School of Needlework supplies trestles, and so do a few independent needlework artists who have shops. But here in the US, they've been somewhat slow to catch on. At one point, Evan Burroughs (the inventor of the Evertite frame) was offering a set, and rumors circulated a bit that the RSN classes in San Francisco would soon be offering them. I even had a friend's father up in Michigan toying with making some.
Those options all fizzled – or at least, they're a long time coming, if they haven't altogether fizzled – so I got to thinking about how to come up with my own set of trestles, which in turn led me to exploring whether or not it was feasible to supply trestles for the US market.
My Trestle Journey
It so happens that here in Kansas, there exists a little woodworking shop that is a non-profit organization assisting developmentally challenged youth to learn life skills. Because I've been in education for a while and I know first hand the challenges that our youth today face, this endeavor was something that captured my attention, and I saw an opportunity to help the workshop and to supply a solution for the lack of trestles in the US.
The road in developing the trestles was a little rocky, but it worked out, and I am very pleased with my own set. In the process of presenting the workshop with my ideas and working out the specifics with them, in paying for all the materials and the development of the prototypes, and so forth, I've learned a lot! It has been an educational journey all around.
To get my trestles produced, I agreed to have a small number of trestles made in addition to my own, that I could offer here on Needle 'n Thread.
So here they are!
Trestles are intended to support larger embroidery frames. It's very important to realize this, before you leap into acquiring a pair! They don't support little frames. They comfortably support frames that are about 24″ wide or wider. The idea is that you rest the frame on the frame rest bar at the top of the trestles, and you sit between the trestles. So to use trestles, you need a frame wide enough to allow you to sit comfortably between the trestles.
I use a frame that's about 24″ wide, to be comfortable and have a little elbow room. (This somewhat depends on your size and the size of your chair, too!) But the trestles easily support frames up the 36″ wide (which is what I use when recording video) or wider. The frame can be up to 34″ deep when resting between the legs. And of course, if using a slate frame or Millenium frame, your fabric can be much longer than that, because it can be rolled onto the rollers of your frame.
These trestles are made from solid oak. The oak is unstained and sanded smooth. Shown above is one trestle of the pair. It is 37.5″ deep (from front to back leg – the shorter leg is the front leg).
The frame rest bar between the two legs (the top horizontal bar there) is 43″ long.
The frame can sit flat (ideal for goldwork, beadwork, tambour embroidery and the like), or it can be raised to slant up at a gradual angle comfortable for stitching.
The frame rest bar sits at its lowest at 33.5″ from the floor, which is slightly higher than regular table height. This prevents you from having to bend over your embroidery and helps promote better stitching posture.
Wooden pegs (included) are used to raise or lower the frame rest bar.
The trestles come as a pair. They require a little bit of what I'd call "gentle" assembly, and easy-to-follow instructions are included for that. You'll need a Phillips head screw driver and either a soft mallet (a rubber mallet) or a hammer with a towel to protect the wood.
The trestles are intended for indoor use. Before considering them, you might scope out your workspace to make sure you can accommodate them. Unlike "fold up stands" and the like, trestles aren't meant to be "temporary." At the same time, they don't have to be permanently set up, but they do take up more room than most embroidery stands! When I'm not using mine, I nestle them together against a wall or inside a closet. You can also disassemble them for storage. When shipped, they fit into a 10″ x 10″ x 48″ box, so that's the maximum space they take up when disassembled.
Cost, Availability, Shipping
The trestles are $200 / pair. They are shipped within three days of order, only within the contiguous US. (Shipping them any farther is prohibitively expensive.) Shipping in the contiguous US is $32, via UPS ground.
Right now, I have a limited supply available. Whether or not I will carry more in the future remains to be seen. Lots of factors there – whether or not there's a demand, whether or not the workshop and I can work out the details to make it work for both of us, storage logistics for an on-hand supply, and so forth. So we shall see!
If you have any questions about the trestles or would like to know more about them, feel free to ask below or drop me a line.
If you're interested, you can find the trestles available in my shop!
The trestles are sold out, and due to manufacturing difficulties, will no longer be available. Sorry about that! As soon as I have a line on where else you can order trestles, I will announce it on Needle 'n Thread and link the information up here. Thanks!