My friends, my friends! Let's talk about design transfer again today, shall we? It's a wide-reaching subject in the world of embroidery, because eventually, we all have to do it if we ever want to embroider a design that isn't in a pre-printed kit.
Today, I may shake you up a bit. I might even make some of you a little miffed. That's not my intention! My intention is to caution you, to perhaps save you some heartaches, some time, some money. As my mom was wont to say, "I'm saying it because I love you" – preceding, of course, something I didn't want to hear!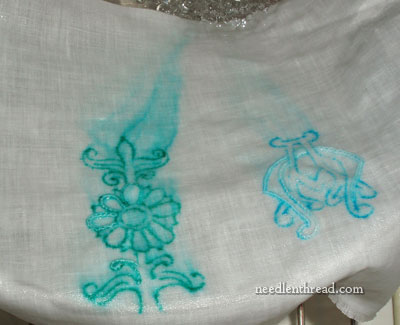 Transferring embroidery designs with pens made out of chemical inks that profess to disappear or reappear is generally a bad idea. Whether you are working on an embroidery project that costs you very little in the way of investment – say, a flour sack towel worked in cotton floss – or one that requires a considerable investment – something worked on a more expensive linen, using more expensive threads – there is nothing worse than doing all the work on the project, only to find that you made a bad choice in the method of design transfer.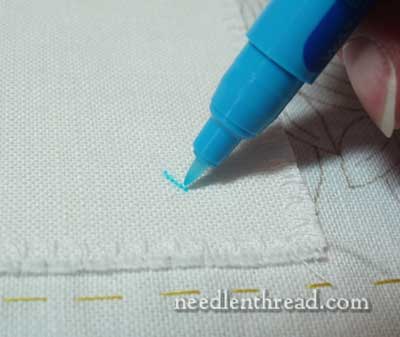 That bad choice may not become immediately apparent, when using chemical inks that have disappearing and reappearing properties.
At first, these types of pens appear to work. They disappear.
But what do they leave behind? They don't just go away as if they were never there! They leave behind a residue, and that's what you have to be worried about. These residues yellow with age, brown with age, or just reappear with age.
Additionally, you don't necessarily know how chemical residues will affect, over time, the fabric and the threads that you use. Different types of chemicals can hasten decay. They can weaken fabric and threads.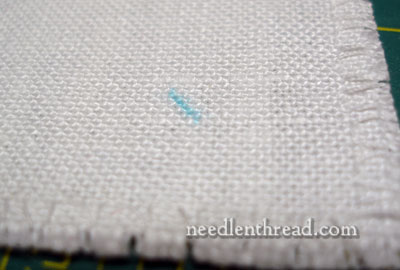 Over time, stitchers have become more aware of the instability of the notorious water-soluble, air-soluble, and erasable blue transfer pens on the market. We've probably all heard horror stories about reappearing blue lines, if we haven't experienced them ourselves. I've experienced them. I've seen blue lines re-appear after giving something as a gift! I've seen yellow-brown "shadows" appear over time. These incidents are not pleasant, after spending many hours of stitching a design.
If you are serious about your embroidery and have been stitching for a long time, I'm guessing you already know this and I'm not telling you anything new.
If you are a beginner, and you're excited about the fun and funky and colorful embroidery peppering the internet and you want to try it, and you see that some stitchers out there use the blue pens – keep in mind that you're seeing fresh photos after the finish. You aren't seeing the effects of time on the fabric, threads, and markings.
And that brings me to the subject of Frixion gel pens, which "erase" with heat. Over the past couple years, many people have recommended these pens for use on fabric.
You might wish to read this article on My Three Sons about Frixion pens. Angela played around with the pens, to see how they work on fabric, and she documented it very nicely.
Remember that, although the marks from these pens disappear when you iron the fabric, this does not mean the actual chemical in the gel ink is gone. Under certain conditions, the marks return. It's true that we don't normally freeze our embroidery, but if the marks return under certain conditions, it means the chemical is still there, working on your fabric and threads. Even when the fabric is washed, "ghost" lines remain and the lines still reappear in the freezer, so we know that some residue remains even after washing. What will this residue do over time? How will the ink affect your fabric and threads? Will it show up again? Will it turn a yellow-brown over time?
Is it worth the risk of your embroidery to use these types of pens, when there are other tried and true methods of transfer that have withstood the test of time? I would say no.
I realize I can't twist your arms on this – you might be a loyal fan of these types of pens. Perhaps they have worked well for you and you've had good experiences. That's great!
But for those of you who haven't made up your minds about transfer pens, I encourage you to proceed with caution! This is something I wish someone had told me, years ago.
So there it is, for what it's worth…
What's your take? Feel free to leave your comments below!