Remember this needlepoint "tapestry" that I picked up for a song? Well, I told you that I bought it for the "frame" it came in, and asked you to guess what it was. I thought I was being So Smug and Secretive. But you all guessed it right off the bat – thank you for unsmugging me!
I was going to stage some photos to show off the fire screen. But I don't have a fireplace, and the thing is really too big for my minuscule living room. You might be wondering why the heck I bought it, then – and I don't blame you! I find myself wondering the same thing! But I'm glad I did!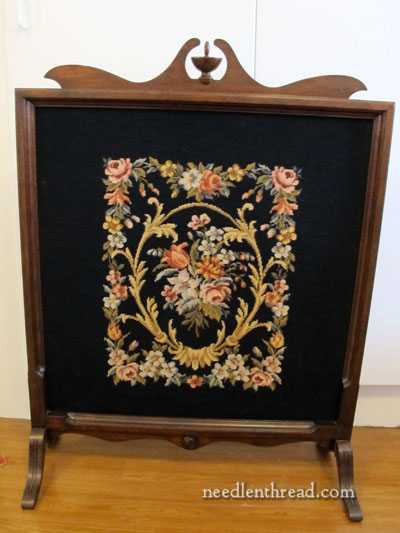 Here's the whole fire screen, with the needlepoint tapestry center. The pictures don't do the frame justice. The wood has a nice warm glow to it, and the whole screen is in very good shape.
The wood is really pretty. I'm not sure what kind of wood it is, but it has a nice grain. The finish is smooth as glass. It's not super-ornate, but the top has this finial and curve thing going on …
… and the base has a bit of a wave touched with a simple accent.
This is a close-up of the side. It needs a good cleaning!
I have no idea of the history of the piece, where it comes from, how old it is, or anything of that sort. I'm sure it's not that old. I'd be tempted to put it in the latter part of the 1900's – the 60's or 70's, for example – when needlepoint was enjoying a resurgence of popularity.
I bought it for the frame itself. I've always wanted a fire screen (even though I don't have a fireplace!) because I've always wanted to embroider something for the inside of one. This at least gives me a place to start.
Different Types of Fire Screens
There are different types of fire screens in the history of furniture. I think it would make more sense to call the one I've acquired a "fireplace screen" because it is not really meant for directing heat, but rather for covering up, in a decorative way, the gaping mouth of an empty fireplace.
Over at Ruby Lane antiques, there's this oh-so-pretty fire screen that is actually a heat-directing fire screen. The center decorative screen pivots so that the heat can be directed away from (or towards) the people around the fireplace. I'd almost give my right arm for that one! I think it's so pretty – and the beaded needlepoint figure is really different! But… uh… well. It's not in the budget. Not by a long shot.
Then there are the spindly pole fireplace screens. The screen itself could move up and down on the pole, depending on the height or sitting position of the person it was shielding. Primarily, these were used to keep the heat or glare of the fire off the face of the ladies. Though they're often seen with embroidered or needlepointed decoration, they were also commonly painted or decorated with paper collages and the like.
Then of course, we have today's fireplace screen, which is usually some kind of metal mesh, used to protect the surrounding surfaces from sparks that fly from the lighted fire.
Compared to some screens out there, especially the more elaborate antique fire screens from the 19th century, my frame isn't all that magnificent, I know. But I like it! I'm not exactly sure what I will do with it in the long run, but it's a good (and affordable) starting point for an idea that's been bumbling about in my head for a while.
So, if you had had the opportunity to pick this up for a song, would you have leaped at the chance? Would you think it "sacrilegious" of me to remove the original needlepoint and replace it with something of my own making? If you did that, what would you do with the old needlepoint? What are your thoughts about my new acquisition? Feel free to share them below!
Oh – and if you think I'm silly for buying it in the first place, given the fact that I don't have a fireplace, and I don't have a living room that can accommodate the thing, feel free to say so! There's still a part of me that's thinking the same thing…