Normally, the books reviewed on Needle 'n Thread are embroidery technique, project, or history books. But let's deviate a bit! This book is an example of needlework in action.
It's a children's book. If you have children in your life – kids, grandkids, nieces, nephews, godchildren, friends' children, any children! – this is a fun book that makes a great gift!
A couple years ago, I reviewed Salley Mavor's book, Felt Wee Folk, which is a project book that demonstrates how to combine felt and embroidery and dimensional objects and characters into little pictures or story boards. It is a wonderfully instructive book, and if you like working with felt, embroidery, and sculpted figures, chances are, you'll love this book!
But today, I want to show you Salley Mavor's creations at work, in her book Pocketful of Posies. It is, simply put, an enchanting book.
Salley Mavor's felt scenes are such fun illustrations for children's books!
Pocketful of Posies is a collection of familiar (and some not-so-familiar) nursery rhymes, all of which are cleverly illustrated by scenes in felt, embroidery, fabric relief, and sculptured figures.
Open the book, and the endpapers already delight! The endpapers are covered with little animals, leaves, butterflies, cabins and flowers – cute little single elements, all fitting together nicely, and all worked in multiple colors of chain stitched lines.
Once you get into the book, you'll see little sculpted figures of children and animals, little houses and cabins and towns, plenty of trees and foliage and sunshine!
Besides felt, the author uses found objects, wooden pieces and the like to further create her charming little worlds. The fence upon which Humpty Dumpty is perched is a masterpiece of painted felt stones, each bordered with buttonhole stitch, with a little wooden gate that completes Humpty's wall.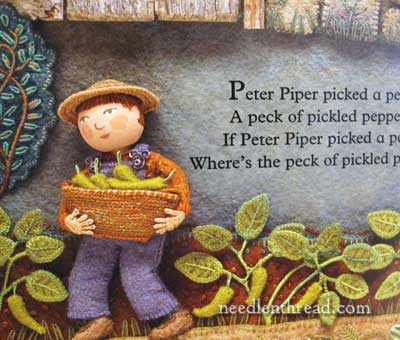 The scenes serve multiple nursery rhymes. At the base of Humpty's wall, Peter Piper picks his peck of pickled peppers. In this case, they are tiny felt peppers in a tiny woven basket.
The scenes are sunshiny and happy – purely delightful!
And while I find the book endearing because of its textile foundations, you can rest assured that the munchkins in your life – especially those acclimated to books – will gobble the book up. My nieces did – they were drawn right into it! And you know how it is – it wasn't just once. It was… you know. Ten Times in a Row. With a million why's and how's along the way.
Why is she in a pumpkin?
Because that's where she lives.
Is it sticky?
Probably.
Did he catch a fish?
No.
Is that a hat?
Yes.
Can I have it?
Sure.
Why is he too big for his house?
His house is far away.
Does he do ballet?
No. Humpty Dumpty is an egg. He doesn't do ballet.
Why is he an egg?
Aaaaaaaaaaaaaaackkkkk.
You can follow Salley Mavor's adventures on her blog, Wee Felt Studio. You'll find there an announcement on the traveling exhibit of Pocketful of Posies. If the exhibit is showing up in your area, you might want to go see these idyllic little scenes in person.
You might also enjoy watching her progress on Rabbitat, which begins with a film, and then includes a listing of related blog articles that show the development of the piece. Fascinating stuff!
Fun, fun book for kids – I highly recommend it for that next birthday present! And you'll enjoy looking at it just as much!
Where to Find It
You can find Pocketful of Posies through the following book affiliates:
In the US, it's available here through Amazon.
Worldwide with free shipping, you'll find it here through Book Depository.