Two exciting announcements today!
The first announcement – registration is now open for the Vintage Strawberries online needlepainting class. The class is now sold out! (Had no idea that many spots would go that quickly! Thanks to all who jumped aboard!)
And the second announcement? Five winners of these great little "Stitch Beautifully" zipper bags!
The Vintage Strawberries is now sold out.
I'm looking forward to seeing you in the classroom! While I'm not teaching the class, I do hover in and out a bit, to make sure there are no technical disruptions. It's fun to read along with your discussions and see your progress, too.
Stitch Beautifully Winners
There are six winners for Monday's Stitch Beautifully Give-Away.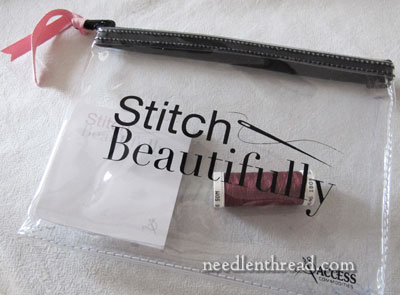 Each winner will receive the Stitch Beautifully zipper bag, with a full spool of beautiful silk thread and a little notepad tucked inside.
Here's the list of winners:
Donna D – whose favorite stitch is the lazy daisy (detached chain stitch) at the moment.
Diane Ditzler – French Knot was her stitch of choice
Kathy in Kenai – She had a lot of fun with chain stitch, making a three-dimensional strawberry
Heather M. – She voted for French knots, too
Anne with an "e" from Houston – Woven Picot!
Brynn – who guessed the right stitches on last Saturday's lattice stitch article.
Thanks to all for participating! Ladies, please drop me a line with your mailing addresses and I'll get those little treats in the mail to you next week!
Coming Up on Needle 'n Thread
We're going to explore some more stitch variations in Stitch Fun, and I'll show you my lattice conglomeration progress. I'm filling up shapes in a strange design with all kinds of lattice variations, just to work out the stitches. I'll show you that.
We'll also look at some technical stitchy stuff and chat about different types of lacing and whipping stitches.
I've been reading a "scholarly" embroidery book, and I'll share that with you. It's true – sometimes, it's more than just the pictures that attract me to an embroidery book! But this one – this one is the best of both worlds!
To feed all you Tool & Accessory Lovers (among which, I am one), we'll look at some tools of the trade, too.
Do you want a Trish Burr embroidery kit? I'm giving away three!
And I've actually made some progress on the Hungarian Runner – you'll see me inching towards the halfway point.
Bye-bye, Kansas! Hello, Minnesota!
In a few days, I'm meandering northwards for a big wedding in Minnesota. Yes, I'm surprised, too! I never knew people got married in Minnesota in January! Despite this arctic expedition to witness some chilly nuptials, things will chug along pretty much as normal here on Needle 'n Thread. Ah, technology – I'll be taking you along with me, and the Hungarian Redwork Runner.
Do you ever accomplish much embroidery while traveling? I rarely do, but I always set out with high hopes!