A little while ago, I was asked to try a new (to me, anyway!) line of hand sewing needles from Pony.
Even though I have my favorites when it comes to embroidery needles, this doesn't mean that I don't use other brands. I do, and quite frequently. And I like all the needles I use, for different reasons. Believe it or not, I'm not super picky about embroidery needles, as long as they don't have burrs and they do their job.
If you've ever looked around for very fine-sized embroidery or crewel needles (size numbers higher than 10), you've probably noticed that they're kind of hard to come by.
There are only a few places you can buy the higher numbered embroidery needles in sizes 11 and 12. From the information I've been able to glean hither and yon, there are very few needle manufacturers that still make both of these sizes. I've found one manufacturer of "fine English needles" (whether made in England or not is another question – discussed in this article) that makes a size 12. Are there others? Maybe there are, but I haven't been able to find them.
Pony, a needle manufacturer out of India, makes both sizes 11 and 12, and I have a little supply of them that I rely on.
When the manufacturer wrote to me a while ago to tell me about their line of colored-eye hand needles and to ask if I would like to try them, I was quite curious.
You see, what makes this new line of handwork needles from Pony different from others is the fact that the eye-ends of the needles are color-coated so that they are color-coded according to size. And when I read the description of them, my curiosity was piqued.
My first thought: How is this going to work? The color coating is going to be problematic. It will chip. It will wear off. It will interfere with the smoothness of the needle's shaft…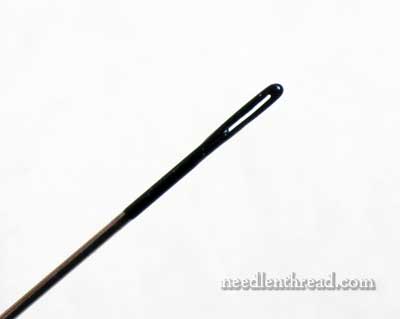 You can see the color coating here. It extends about three times the length of the eye down the shaft of the needle. This particular needle is a size 10. How do I know? The coating is black. And black corresponds to size 10.
And this bright green needle? That's a size 9.
The variety packs of crewel, chenille, and tapestry needles come in little handy dial boxes, so you can keep the needles in their separate compartments and always have the color chart on hand as long as you still have the dial box. The needles are also available in regular needle envelopes that house any particular size you want.
Pony also produces very long beading needles in this line, too.
Using the Needles
So for the past few weeks, I've been using these colored-eye needles from Pony, to see if my initial misgivings would bear out.
My first concern was that there would be an obvious, tangible dividing line on the needle shaft where the color begins. This, in fact, is not the case. Though you can definitely see where the color begins, you can't feel where it begins.
Then, my primary concern was whether or not the color coating would hold up. If it were to chip or begin to wear off, it would most likely result in a rough needle surface, which is not desirable.
But, a few weeks later, I'm still using the same colored-eye needle on the Mission Rose project and the same colored-eye needle on another project, and they're both holding up just fine. No indication of the color wearing off, no problems with burrs or anything. So far, so good!
The Mission Rose project is a good gauge, by the way. When working with filament silk on silk ground fabric, a faulty needle shows up pretty quickly.
I'm pleased with the needles so far. I'm not convinced color-coding is essential for needles, but it's an interesting enough idea. And admittedly, it does make it really easy to differentiate a specific needle from surrounding needles. It's pretty easy to pick out a bright green-eyed, red-eyed, or a black-eyed needle from a forest of regular needles!
I'll keep plugging away with these needles to see how they keep up over time. So far, I'm confident they'll be fine.
Have you tried the colored-eye needles from Pony? I haven't seen them available here in the US anywhere, though I have seen them available on eBay (usually from the UK).