Here's a free hand embroidery pattern for you, doodled up over the weekend. It is a slightly altered version of a design from an old book – resource below!
The embroidery pattern come about like this…
Step back to my childhood with me! Memorial Day weekend transports me to childhood. Those three day weekends at the beginning and end of the summer – Memorial Day and Labor Day, respectively – were reserved for certain family rituals.
And while most people were beginning or ending the summer with picnics and cook-outs, or enjoying the first or last summer fling of camping by the lake, or lining streets for parades while slurping snow cones or dissolving into sticky messes of cotton candy – not us! No, no! We had our own unique family ritual.
It was called "Cleaning the Garage," and while it's a family joke now, it has become a deep-seated kind of urge. Memorial Day weekend comes around, and I feel compelled to clean the garage.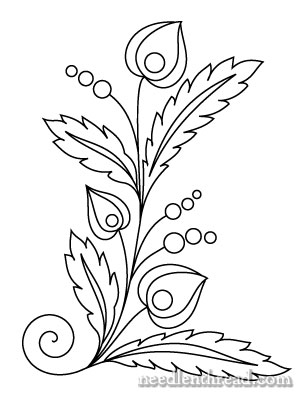 And as a result of that urge, here's the hand embroidery pattern!
It's hard to find a correlation between garage-cleaning and embroidery designs. But as it so happens, I don't have a garage anymore. I've actually mentioned this whole dilemma before, when discussing Memorial Day and Labor Day and garage cleaning – when I showed you these pictures of my workroom where I do most of my embroidery.
My workroom used to be a garage. And so that's where I turn my attentions on these three day weekends. And while turning my attentions thither, I came across an old copy of the DMC's Czecho-Slovakian Embroideries book. And I whiled away cleaning time by meandering through it. I came across a particular pattern that had the element above in it, and it attracted my attention. I started playing with it, and …. voila, a new pattern for you.
But the best part? You can find the DMC Czecho-Slovakian Embroideries book online for free, through the Online Digital Archive of Documents on Weaving and Related Topics, an initiative of the University of Arizona. It's a nice source for some good old needlework and textile-related books.
In any case, I altered the pattern a bit, thinking terms of a single embroidered design, rather than an element within a larger design, and that's what I came up with. Here's the PDF, for download and easy printing, enlarging, and reducing:
Czech-Inspired Folk Flowers (PDF)
Hope you enjoy it and find a use for it!
If you're looking for hand embroidery patterns, feel free to check out the whole gallery of free hand embroidery patterns available here on Needle 'n Thread.
Looking for inspiration & information on hand embroidery?
There are all kinds of reasons to sign up for the Needle 'n Thread daily newsletter! Check them out and sign up today!