At the risk of driving you all nuts, I made another change on the Mission Rose. And it wasn't for the better!
I find myself being fickle when it comes to this project. And usually, I'm not a fickle person
(Except when I am…)
So here we are again, back to a blank rose! Last time we looked at this, I was starting the embroidery on the rose itself, but I snagged one of the leaves and had to re-stitch it.
I decided to take all four of the little inset leaves out and restitch them completely. Instead of long and short stitch in the three colors of green (as before), I decided to try satin stitch in the darkest green.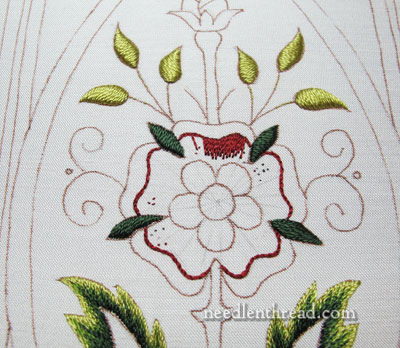 And it looks rather dreadful at this point. Keep in mind that the rose will be brighter reds and pinks, and the leaves will sink a bit to the back. They will be outlined with gold, too, which will change their look further.
But I still don't like them. That dark blue-ish green is not a favorite by itself. It tends to look a bit dead.
I have yet another plan for the leaves.
In the meantime, I started the first row of long and short stitch in 4624, in Soie de Paris (it's the second darkest red in the line-up of thread color choices previously discussed). I really needed to see if the dark green would come to life with more vivid colors next to it. I don't think it's going to. And there's no point in going further until I get this the way I want it.
So today, Plan C goes into effect, and I'll share the results with you soon.
Tomorrow, I'd like to chat with you a bit about working with Soie de Paris. Lately, I've had some questions specifically about working with this thread. It seems some stitchers are frustrated when they work with it, so maybe we can hammer out some ways to eliminate frustration when working with filament silks like Soie de Paris. I'll share some tips with you tomorrow and maybe we can get up a good discussion that will help other Stitchers in Distress.
Questions, comments, suggestions? Feel free to leave a comment below!