There's something about needlework accessories… something that compels us to buy them, use them, enjoy them.
When I first started embroidering as a kid, accessories were never part of the package. I didn't even have real scissors at first. I remember biting my thread to cut it!
But as an adult, I've found that needlework accessories and specialty tools are part and parcel of my whole love affair with embroidery. However, I'm not prone to "collecting" them just for the sake of having them. They have to be useful. And if they're attractive to boot – well, that's just the best type of accessory, in my mind!
Today, I'd like to show you a new accessory on the market – one that I believe is useful, unique, and attractive. I love these little needle tins!
While we look at them, we'll chat with Lamora Haidar of Access Commodities, who conceived the idea for the needle tins and had them made for distribution. We'll learn a little bit about the whole needlework accessory market, how ideas come about and progress to a finished product, and glean a little insight to this love of accessories to which many embroiderers are prone.
These are the needle tins. They are small, tin boxes with sliding lids, that come in sets of four. They're the first bulk-needle-storage solution I've seen that's actually attractive. Those clear plastic needle tubes don't hold a candle to these lovely little things!
I love the tins – not only are they are a perfect solution for storing bulk needles, but also for storing small collections of needles for specific projects. They're a cross between beautiful, elegant, darling, and practically edible.
Here's my interview with Lamora:
MC: Why do you think needlework accessories are so important to the needleworker today?
Lamora: Embroiderer's lives in the 19th century were more centered around the home, and in their daily lives, people did not venture that far away. Our lives in contrast are much more mobile and some of us don't just stitch at home. Some of us take our embroidery everywhere we go. We are conditioned to seek out convenience and improvement in our pastimes. And, besides, who doesn't like pretty things in their workbox?
MC: What's your favorite needlework accessory and why?
Lamora: Hands down, a quality thread and the appropriate needle suited to the type of embroidery. For me, it is a simple luxury to embroider with a good needle and beautiful thread making every stitch a pleasure.
MC: What do you look for in a needlework accessory?
Lamora: Ease of use, quality craftsmanship, and does it serve the purpose? I also believe a needlework accessory should be artfully designed which in turn enhances the delight for the user.
MC: Can you tell us a bit about the journey from vision to reality when you conceive an idea for a needlework accessory?
Lamora: You are right – it definitely is a journey. Wish I could tell you it moves in a straight line, but most of the time it does not. When creating products, my design team starts with an idea centered around a purpose. In this case, what to put your needles in if you buy them in bulk or need to put them in something besides a pincushion or a needlebook? We start by seeking good materials, and craftspeople / manufacturers that are reliable to produce it. Once the product is made, we have to consider packaging design and the retail environment where the product is going to be sold. The challenge is how to take a smartly designed product and maintain how attractive it appears inside a package.
MC: What prompted you to come up with the idea for little needle tins?
Lamora: We had this idea 7 years ago when we started working on a workbox for embroiderers. We realized that while there were a lot of things on the market, no one was addressing the other essential accessories an embroiderer would use besides a needles and thread. Accoutrements, our line of different kinds of pins, good quality twill tape, and Turkish emery among other things was born to serve this need. A diminutive box for needles was something we came up with, as we loved the wonderful Victorian brass ones. Finding a manufacturer to work to that level of artistry was not an option. As time has passed, we kept circling back to this as an idea and how we could make something for today's embroiderers.
MC: Why this particular design for the needle tins?
Lamora: My daughter Justine lives in NYC and works in digital media. She is a twenty-something, and like other young women her age she is interested in fashion and design history. We talk a lot about product and package design, and what is alluring. I asked her to design these for me. The design brief was simple. I wanted something a little girly, but not too much. While we could have imitated the Victorian period brass needlecase designs, we reached a little further back for design inspiration to the Regency period (1795-1830) – hence, the silhouettes. Is this the point at which I confess to being addicted to all things Jane Austen?
MC: I know people will ask, so let's discuss the lack of magnets in the tins. Lately, it seems magnets are center stage in just about every needle storage solution on the market. Why did you forego magnets in the tins?
Lamora: We did try magnets with the production samples we got and rejected the idea for several reasons. First we found that the needle tins stuck to other things in our workbox. And, with magnets the needle tins themselves stuck to each other. Personally, I don't like my needles magnetized. However, if the purchaser wants to put a magnet in they can certainly do so.
MC: What do you like best about the needle tins?
Lamora: I just love the embossing of the silhouettes and needles on the face of the lid, and the quality of the tin. We worked very hard to find a manufacturer that produced one that felt good in your hand, and not flimsy. I knew these would be a success when they were produced and my daughter showed them to her friends and they asked where they could find them. I think with this price point they are the perfect gift for fellow embroiderers.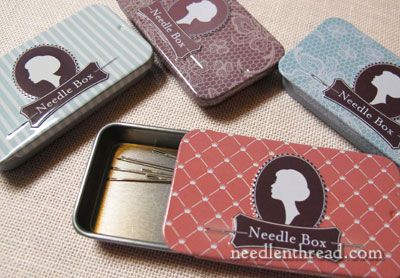 Thanks, Lamora!
Yep, I love these new little needle tins! And I love the fact that they come in a package of four. They work well as a set, to store different types of needles in each tin. Or you can break up the set and use them as little token gifts.
And here's a thought: A vintage-type label affixed to the base would be a perfect way to record the type and size of needle stored within, if you use them for bulk storage. For example, these glitter jar labels available as a free download from Just Something I Made might work really well – the small round ones or some of the oblong and rectangular designs would do the trick. If they print too large as designed, you can rescale them in your printer settings. I'm going to give them a try!
Where to Find Needle Tins
You can find Needle Tins through any fine needlework shop that carries goods from Access Commodities. If your favorite needlework shop (locally owned) doesn't carry them, ask! They can always be special ordered!