Just a quick update on a tad bit more goldwork on the Mission Rose project!
Yesterday, I was supposed to be working on something else to share with you today, but I still had all the goldwork mess out, and … it beckoned.
I heeded the call.
What else can one do?!
So, yesterday, I added the rest of the goldwork threads to the rose itself. I ended up taking out the tambour thread around the little leaves leaves that I mentioned in yesterday's article, switching it out with #5 smooth passing thread. I worked the smooth passing thread only over the top half of the inset leaves.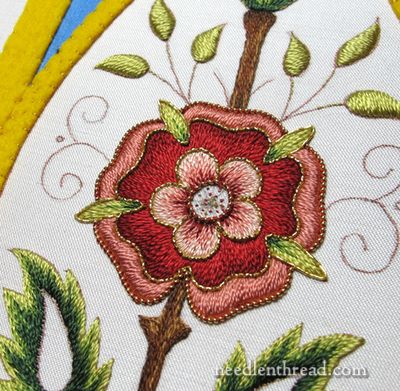 I worked around the inside red petal area with check thread, which we discussed yesterday, too. It's the same thread around the very inside little pink petals.
Then, around the outside of the whole rose, I worked the stretched pearl purl (size "super"), twisted with the red silk Soie de Paris, just like the ring in the very center of the rose. You can read about this technique in this article on the Tudor-style rose project from last year.
I like the definition the pearl purl and red silk twist gives to the outside of the rose.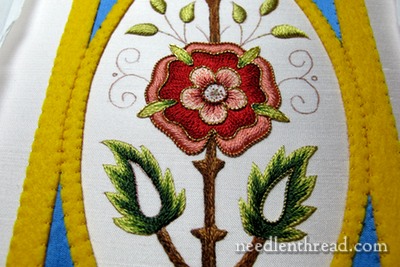 You can see on the lower right large green leaf that some gold has started to creep in there, but more on that later – I'll give you some close-ups, when it's a little more developed.
So now you're all up to date with the present condition of the Mission Rose! Today, I will attempt to resist the call and work on something else to chat about – something that has to do with a multitude of stitches! Keep your fingers crossed for me!
If you have any questions, comments, or suggestions, feel free to leave a comment below!
If you're just joining in on the Mission Rose project and you'd like to follow it from start to finish, you'll find all the articles relating to this project listed in chronological order on the Mission Rose Project Index page.