Now that Lavender Honey & Other Little Things is finished and available, it's time to move on to some embroidery projects that have been weighing on my mind. And some of those projects involve monograms.
I am a lover of decorative initials and monograms. And they don't even have to be mine! I don't care what initials they are! I love monograms and decorative initials, and I love, love, love them when they are hand embroidered. It's that marriage of hand embroidery and lettering, I suppose….
Monograms (and decorative initials – I'm using the terms interchangeably, but they aren't really the same thing) seem to pass in and out of "style." Right now, the decorative initial is pretty popular in arts and crafts circles. But the monogram – that is, the hand embroidered monogram – regardless of current trends and fads, will always be a timeless thing. I'm pretty sure of that.
Monograms are a symbol of individuality. They often (though not always!) reflect good taste and a kind of refinement. They impart a sense of luxury, without necessarily being a "luxury item" that only few can afford. Things that are monogrammed are automatically special, and things that are monogrammed by hand are even more so.
Pinterest has become a favorite hunting ground for images of beautiful monograms. I've collected a few on my Hand Embroidered Monograms board.
Looking at vintage and antique monograms on linens is a good way to get the feel for the whole Decorative Monograms thing. How letters are entwined or grouped together, what types embellishments look good, what types don't look so good – you can learn a lot about the whole art of monogramming by looking at samples.
This past weekend, I spent a bit of time with some monograms, and will be spending quite a bit more time with them in the weeks to come.
Two Essential Tools for Monogramming
With monograms, they really can be worked with any threads, in any style, on practically any kind of fabric – it just depends on the look you're after and the final use of the monogrammed thing.
But when working monograms, there are a couple things that are thoroughly essential.
The first is good lighting. Good lighting is an absolute must – and, if you need it, magnification. You might be thinking, But those are really essential in all kinds of embroidery! And to an extent, you are right.
But with embroidered monograms, because of the lines and the flow of the lettering and the usually mono-color against a usually plain background, and because of the use of a limited array of stitches on a monogram, it's very difficult to hide mistakes. They tend to glare. For example, faulty spacing, changes in stitch direction – these things really stand out.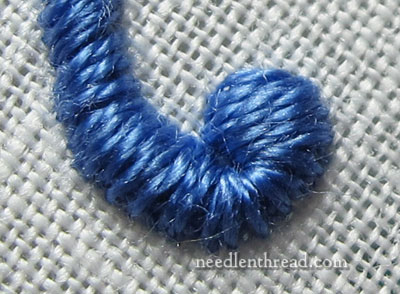 Last week, I knocked over my floor lamp that I use for stitching and of course, broke it into a million pieces. While awaiting a new bulb, I used an older light that's not that great, but better than the overhead light. Big mistake! What I thought I was seeing and what I was really seeing were two different things. (I should've been using these CraftOptics!)
On the sample above, close up, you can see what I mean. The spacing on my stitches is way off – there are gaps and then crowded areas. The stitch direction is not consistent.
From a little farther back, it looks "ok" but not great. The blue against the white ground fabric really makes any warbles in the edges show up. But when I was stitching it, I thought it looked fine – until I took it outside in the sun and could really see it.
Often, with lighting, we don't realize we aren't seeing as well as we could. If you have any doubts, take your work outside in the bright sun in the middle of the day and hold it so the sun shines right on it. Talk about seeing things in a Completely Different Light!
The other essential? A good embroidery hoop. One that keeps your work really taut, that can be tightened up with a screw driver, that can be bound for fabric protection and grip.
Taut fabric is necessary in most embroidery situations that you run into with monogramming. There are some exceptions when it comes to techniques, but the majority of techniques used for typical monogramming require good, even tension on the fabric. Embroidered monograms are beautiful – but warping or puckering around the finished monogram can really detract from the glory of the finish!
Your Thoughts on Monograms?
Over the next several weeks, now and then, we'll visit the subject of monograms. I hope you don't mind! How many stitchers out there are fans of monograms? Do you like them? Would you like to know more about monograms? What type of information would you be interested in? Do you have particular styles you like or particular styles you don't like? Or do you have an aversion to decorative initials and monograms? (Some people do – I have a friend who shudders at the thought of them. She says they remind her of Laverne and Shirley!) What's your take on hand embroidered monograms? Have your say below!
Tomorrow, it's time for a Mission Rose update. I've fallen a bit behind with it – but this week, we move into the goldwork! Oh, Goody Gumdrops!