So, we've chatted a bit about color in hand embroidery projects lately, and yesterday we talked a bit about color and the eyes. Today, I'd like to follow up with a review of a good light for hand embroidery.
We've talked about lighting before here on Needle 'n Thread. I've reviewed the BlueMax lamps that I use in my workroom, and the Dublin Craftlite LED light and magnifier, and I've used all kinds of other lights, too, from various types of Ott lights, to "HD" craft lights, to LED clip ons – you name it. I don't have very good eyesight, so good lighting has always been one of my Great Quests.
There lots and lots of craft lights available out there, and it's difficult to differentiate between them without either using them yourself or doing a little research. So here's another review – this time, of Stella lamps.
The lamp I'm reviewing today is the Stella desk lamp. Stella Lighting also makes a floor lamp called the Stella Sky, but I've not tried the floor lamp.
However, if you want to read a review of it, you can find a good review of the Stella Sky floor lamp on the Needle in a Haystack blog, written by Cathe Ray.
The Stella desk lamp comes in black or white. When adjusted to its fullest height, with the neck bent so that the lamp shines flat down on the surface below it, the space between that surface and the lamp is about twelve inches. So the desk lamp is not a large lamp. It's a task lamp.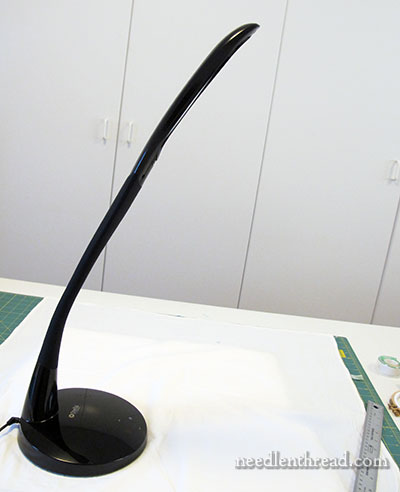 However, the neck on the lamp is super-duper adjustable, and you can manipulate it quite a bit to shine the light right where you want it.
This is Stella, turning to say Howdy. She likes this Pixar pose, because it demonstrates how her neck twists to make it easier to direct the light where you want it.
Here, I've got the lamp on my table, next to my current project, which is being held in a tabletop frame stand.
In order for the light to shine over the project on the stand, the lamp has to be adjusted upwards at an angle, and even then, it is a little close to the project. So the task lamp is not "tall" at all – it doesn't take up much space.
If you do your needlework in a hoop or a hand held frame at a table, the Stella lamp provides plenty of illumination over your work area, and plenty of room between it and the table for this type of work.
There are some special considerations about the Stella lamp that make it different from any other craft light.
The first point is the lighting itself. The lighting is LED, so it gives off very little, if any, heat. You can't feel the light get warm at all. I worked under it for different stretches and never felt any kind of warmth radiating from it at all.
But unlike other LED craft lights available, you can actually switch the color settings on the Stella. There are three different color settings: cool, warm, and natural.
The lamp is on the "cool" setting in the photo above. This is a "white light" setting with just a hint of blue, often associated with LED lights.
With the touch of a finger, you can switch the lamp to "warm," which is that typical indoor yellowish lighting that we associate with regular light bulbs.
Finally, there's the "natural" setting that combines both lights, the warm and the cool, in order to get a lighting that imitates natural daylight.
The way the lamp achieves the different lighting temperatures is by using alternating rows of LED lights for the first two colors – warm and cool – and then combining those rows of LEDs for the "natural" setting.
In addition to the three different types of light temperatures, the lamp is also dimmable – a unique feature among LED lamps. So you can increase or decrease the brightness of the lights (on any temperature setting) to suit yourself.
The photo above shows the front base of the lamp where the controls are located. They are "touch" controls rather than knobs or switches.
Last point: the Stella desk lamp doesn't look portable, but it really is portable, more so than any portable lamp I've owned yet. Although the lamp itself doesn't fold down into a self-packaged carrying case, it packs easily into its very sturdy, relatively small box, which is topped with a convenient carrying handle.
The lamp itself – and when packed in the box – is extremely light. To illustrate: when the shipping package arrived (the light was packed in its box, inside another box), I didn't know what it was. I was expecting the light, but I knew it couldn't be the light, because the box was so light!
So the lamp works as a portable light, too, perfect for taking to workshops and classes. And the power cord is about 10 feet long, which is also nice.
Stella Lamp Pros & Cons
Here are my pros and cons, in a nutshell:
Pros
1. Three light settings, as explained above.
2. Adequately illuminates work surface for task use, reading, and so forth.
3. Cool to work under – radiates very little (no discernible) heat.
4. Very adjustable neck.
5. Dimmable!!!
6. Packages up easily and is light to carry, making it transportable for class use. Though very light in weight, it is well constructed.
7. Simple controls, easy to use (no knobs to grip, etc.)
Cons
1. If you work at a table using a table top frame or hoop stand – especially if you are tall – the light is a little short. The head of the lamp has to be directed from the side to illuminate the work surface, rather than directed from above. I'm not tall (5'3″) and I find it too short. However, for hand-held hoop or frame work at a table, it's great.
If you are sitting on a sofa or in an easy chair and you have the light on a table next to you, it does not have a long reach, so depending on the type of furniture you have, it may not reach out over your work.
2. I personally don't like touch controls. But this is a matter of personal preference. When a touch control goes bad, it's more difficult to fix than a knob. And touch controls can be finicky. The controls on this light responded well enough after I got used to them.
3. The Stella lights are expensive. But if you are looking for a good task lamp that doesn't give off heat, that is dimmable and portable, you'd be hard pressed to find another so well made with these features.
Where to Find
Update, 2023 – Stella Lights have improved further over the years, and they now offer a few different types of task lighting, including a very good rechargeable light. You can read more about the newer Stella lights in this article written November 1, 2023.