Remember last week, when I shared with you some photos of this Big Project – re-creating and repairing some pieces of ecclesiastical embroidery?
Well, when I first got suckered into the adventure (did I just say that?!), one though that resonated quite loudly in my head while discussing threads, techniques, fabrics, and whatnot was the fact that I am woefully inadequate when it comes to using the tambour needle.
And so, with dogged determination, I've set about to improve. So this is a little tambour embroidery excursion, and I'll discuss some discoveries along the way.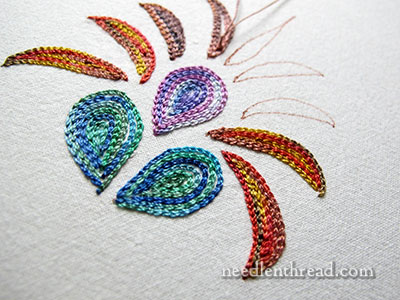 For those who are not familiar with tambour embroidery, it is embroidery done with a tiny hook. It's normally associated with bead (and sequin) embroidery, thanks to its prominent role in the couture clothing industry. All those designer beaded and sequined outfits that hit the fashion runways every year? The embellishment is mostly worked with a tambour hook.
The advantage of tambour beading is that, though done by hand, it is relatively fast. Skilled tambour embroiderers work with impressive speed, encrusting their various projects with all kinds of sparkle and texture in much less time than it would take to do the same with a regular needle. And, for the attachment of beads and whatnot, it's also very secure.
If you'd like to see some explanation on how tambour beading is done, this video on tambour beading by Bob Haven is a good place to get an idea of what it's all about.
While tambour bead embroidery is done from the back of the fabric, tambour embroidery (without the beads) is done from the front of the fabric. I'm primarily interested in tambour embroidery rather than beading, but the principles of both are pretty much the same, except one doesn't involve beads and is a bit quicker to work.
Tambour embroidery produces chain stitch. It can also be used certain ways (from the reverse, or with a slightly different tool) to produce straight stitches, but it is most often associated with chain stitch, and in historical examples – and especially in ecclesiastical work – it's the chain stitch that dominates.
Tambour Embroidery Discoveries
I already knew how to work the normal chain stitch with a tambour hook before I began this particular excursion. But Golly Moses, it was a slow, laborious process!
My two or three previous forays into trying tambour embroidery went like this: pick up the hook, try to get the line started, sit there for five or ten minutes in frustration, producing three shoddy looking chain stitches, and then move onto something else.
They hadn't taught me much.
So, my first discovery about tambour work on this particular excursion was this: just like any skill, practice is essential.
Normally, an opera singer doesn't belt out a perfect aria the first time her mouth opens; a piano player doesn't crank out one of Beethoven's sonatas upon first acquaintance with a keyboard; and a baseball player doesn't hit consecutive home runs the first time he picks up a bat.
And a tambour embroiderer – or any kind of embroiderer, really – doesn't produce exquisite embroidery with normal speed and accuracy upon first contact with needle and thread.
Just like mom always said when pushing the piano lessons, "Practice makes perfect."
Well – if not perfect – practice at least improves things. And a regular schedule of practice is actually the key. Practicing once, and then six months later practicing again, isn't going to get you very far!
So I decided to build a daily relationship with my tambour hook, and every day for the past 9 days, I've spent at least half an hour – sometimes an hour – practicing with it.
Guess what? It worked! I can now wield a tambour needle with better accuracy, better speed, better consistency in the stitches, and with few frustrating episodes. I'm not finished practicing or discovering, but I'm a lot more confident with that little hook than I was before.
Another discovery: tambour embroidery is So Easy to take out! No "frogging" here! Just catch your thread accidentally on your sleeve button as you move your arm away, and your embroidery will disappear like magic – with a cool zipper sound, to boot!
Sometimes, that's not a good thing.
But when you want to remove those three or ten or forty or five hundred shoddy stitches, it's positively dreamy.
Another discovery: Some threads that I wouldn't touch with a ten foot pole for regular chain stitch work up beautifully and easily (in comparison) with the tambour hook!
The biggest surprise? Soie Ovale! Soie Ovale is a flat, untwisted silk, positively gorgeous, but difficult to work with if you're not used to it. It makes a beautiful tambour stitch.
Another discovery, made more obvious with the Soie Ovale: Direction of stitching makes a difference – if you don't want a subtle, stripy effect in your tambour filling (rows of chain stitch), the lines should be worked from the same direction. I think it's slightly more obvious in threads with no twist.
Another discovery! A happy discovery! A discovery that has thrilled me to the core!!
If you've been hanging about with me on Needle 'n Thread for a while, you might remember this goldwork Tudor-style rose, whereupon the goldwork is done with a fine, flexible couched thread called …. tambour thread. I've used the #7 gold tambour thread for lots of projects – it's a beautifully fine gold thread, perfect for small spaces that need filling. And it's easy to couch.
But there's a reason it's called tambour thread, I suppose. It works divinely with a tambour hook! I think I was using a size 120 needle in the handle, for those who have a tambour hook and want to use a goldwork thread.
Another discovery: I've finally realized the full potential of this spool holder!
Another discovery: it is most helpful to put tambour needles, handle, and all peripheral related tools into one container, and to keep it available on your work table to drop spare hooks into as you're working. It's really easy to lose stray tambour needles when they aren't attached to the handle.
And stepping on one of them is Not Pleasant.
And that leads me to a final discovery: tambour embroidery offers a whole new reason to accessorize!
Needle cases. Decorative boxes for storage. A pretty spool holder. A fancy tambour handle. Or two…..
Yes, we all know how it is, don't we?
In any case, we may explore tambour embroidery down the road the a bit if there's interest. I'm not really planning on taking up with the tambour hook for extended amounts of time. I just wanted to get more proficient at it, so I've been playing with it towards that end lately.
If you're interested in the instructional resources I've found handy, let me know, and I'll assemble a list and post it. You can find at Lacis.
Questions? Comments? Have your say below!