I spent a little time organizing my workroom (again) last week. This can be a good thing, or a bad thing. Sometimes, organizing is just an excuse for delay. Other times, it's an absolute necessity!
In this particular case, it was the latter – and all because of a book. But I'll save that story for next week!
While organizing, I came across a collection of stitched samples that were still set up on stretcher bar frames. One – this wee goldwork and silk rose – had been there for two years. It was definitely time to disbar it!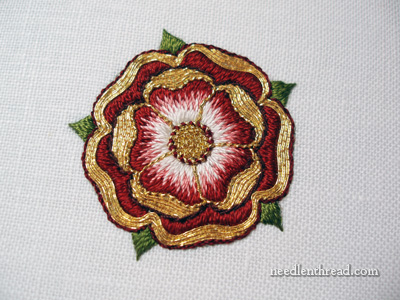 For those of you who've been around for a while, you probably remember this little exercise in goldwork and silk shading.
For those of you who have joined me in the past year, you might not be familiar with it. I worked five of these little roses around the outside of this Marian Medallion Project.
This particular rose was the sample. The test piece. The guinea pig. It is about 1/4″ smaller than the roses on the actual Medallion Project.
Well, there it was, on the stretcher bars, and I really needed to take it off. For one thing, I could be using those stretcher bars for something else. And for another, it's just too pretty a little thing to be relegated to a life on stretcher bars in a dark box.
But, what to do with it?
I didn't really want to take the time for a fancy finish – to make something with it. I suppose I could have framed it in a tiny frame…but I didn't have one.
However, I did have something else rather tiny and frame like. And it was just a matter of finding it, in all the kerfuffle of organizing.
Somewhere, I had a little black box – a 3″ square mini box from Sudberry House. With it's 1.5″ opening on the top, it would be perfect for the 1″ round rose.
Aha! I found it – right where it wasn't supposed to be! So I set about fixing the rose into the box lid. It should have been a quick, simple process.
There was one slight problem, though. The rose was stitched on medium weight linen, and backed with white muslin. It was a bit of a Squeeze to get the two layers of fabric to fit in the little space with the backing closed behind it.
Still, I struggled the thing to the ground, and it eventually worked.
I didn't get a straight-on photo of the top of the box. The frame around the box top is somewhat deep, so the rose looks off-center due to the angle. But it really is a perfect fit.
The inside of the box holds little things – earrings, jewelry, tiny treasures. I stuck a couple spools of silk in, so you can have a better idea of the size of the inside, which is velvet lined.
All in all, it was a productive afternoon of organization. The icing on top was giving the rose a home!
Hope you have a terrific weekend!