Little Gertie McFuzz, the tambour work bird to whom I introduced you last week, didn't take very long to finish. It just took me a long time to get around to writing about her again.
Poor neglected Gertie!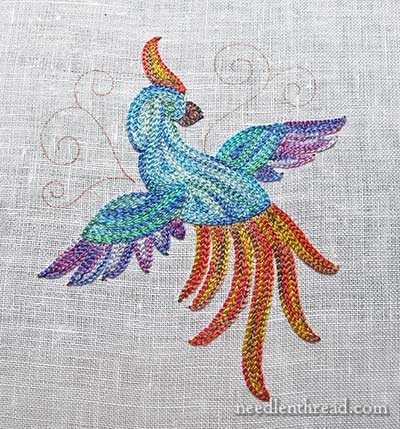 When we first looked at Miss Gertie, her body had been tamboured in with Sulky Petite blendables, and I'd started on her wing and tail feathers.
After finished the wing and tail feathers, I tamboured in that little crest on top, and that anomaly of a beak. The beak is worked in "milk chocolate" in the Sulky Blendables.
The beak turned out looking like some strange flat leaf, but that's because I blurbled when tracing the pattern. If you look at the original Little Bird of Paradise embroidery pattern available here for download, you can see that Gertie's nose is not that unbecoming! Still, the lines were there, and they had to be covered.
Poooooor Gertie!
But the nose grew on me as I went a long – or at least, it didn't bother me as much by the time the whole little piece was finished.
I wasn't planning to add any gold or anything fancy to this piece. After all, it's a practice piece. Why would I use a real goldwork thread on a practice exercise in tambour work?
But you know, this gold thread – gold tambour thread #7 – is called tambour thread for a reason! It's flexibility makes it perfect for using with the tambour needle (and apparently, it works well in lace making techniques, like bobbin lace…)
And it's so easy to work with, using the tambour needle – easier than most other threads, including regular cotton. It just glides into the stitches, it doesn't snag on the needle, it doesn't separate, it just…. works.
So, sacrilegious as it may seem to say this about a fine goldwork thread – even if you're just starting to practice with the tambour needle, use some of this stuff!
Once I worked the little scrollies in gold, I couldn't stop there.
You know how it is, when you're working along, and really enjoying the process, the thread, the whole experience? And then it comes to an end? And there's that deflating sense of disappointment?
That's what happened when the scrollies were finished. They took a whole of maybe 10 minutes. And then it was over!
So I concocted new places to put the gold.
After all, she's just practice, right?
I tipped out some of Gertie's tail feathers in gold. It worked, but it's not that noticeable because of the vivid yellows and oranges on the tail.
So then I decided the gold had to be a wing thing, too.
That worked better. The contrast between the purples and blues and the gold made the gold stand out a little.
Then the crest got a wee touch of the gold as well.
And I stepped back and thought – well, she looks ok.
But…. something was missing. She seemed to lack personality. Why was that?
Oh! She needs an eye!
A little bit of foraging….
…and a wee faceted amethyst bead.
And that brought Gertie to life!
Eyes are so important.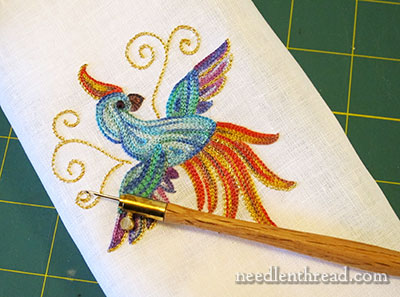 Here's a photo off the frame, in different lighting, with the tambour hook to give you some idea of size. She's not too large, our little Gertie.
And that's the end of that practice piece. I hope you enjoyed seeing it!
Tambour Materials for Gertie, Recapped
On Gertie, I used the following materials:
1.Tambour needle- they're available through Lacis.
2. Shadow work linen – you can find it through Needle in a Haystack. I used an 8″ square. You can also use handkerchief weight linen.
3. Sulky 12 wt. cotton Blendables – available at Anita's Little Stitches. Colors: Autumn, Peacock Plume, Ocean Blue, Iris, Milk Chocolate
4. #7 gold tambour thread – available through shops that carry needlework goods from Access Commodities. If they don't stock it, they can special order it for you. Check with Needle in a Haystack.
5. A little (4mm) faceted amethyst bead.
You probably won't find it hard to believe that I've got another practice piece going. I'll show it to you a bit later. It involves "shading" with tambour embroidery.
We'll be reviewing an excellent book on tambour embroidery this week, too, for those who are looking for simple, clear, uncomplicated, solid instructions in tambour embroidery.
And that book review will compel me to tell you why it became imperative to organize my needlework books! And I might even show you before / after photos. Maybe…
More Information on Tambour Embroidery
You can find more information, tutorials, resources, and other tambour embroidery works in this Index for Tambour Embroidery here on Needle 'n Thread.
Looking for inspiration & information on hand embroidery?
There are all kinds of reasons to sign up for the Needle 'n Thread daily newsletter! Check them out and sign up today!