There once was a girl-bird named Gertrude McFuzz
And she had the smallest plain tail ever was.
One droopy-drop feather. That's all that she had.
And, oh! That one feather made Gertrude so sad!
A couple weeks ago, I mentioned that I was practicing tambour embroidery, trying to get up to speed with a tambour needle (or hook).
Tambour embroidery – essentially the chain stitch worked with a tiny hook on the surface of the fabric – is one of those techniques that I'd dabbled in. Though I had managed to make the hook work the way it's supposed to, I never went beyond that, to the point of picking up speed and developing any kind of ease and accuracy.
I set up a practice regime, committing myself to practice just random lines of chain stitches on a piece of scrap fabric, for a minimum of 30 minutes a day. Before I did anything "fun," I had to get in my practice time in with what's turned out to be a rather addictive little hook.
After developing a little more ease with the tambour hook, I set up this linen towel to practice on.
Then, instead of practicing random lines or another linear pattern, it was time to move on to practicing filling with tambour embroidery.
To that end, I grabbed this little Bird of Paradise embroidery pattern, a 6″ scrap of shadow work linen that I expanded with some muslin, and a selection of threads.
At first, I started with some silk threads (the red thread in the photo above is Soie Ovale), because I am a sucker for silk. But then I realized the folly of wasting silk threads on practice.
So I switched to cotton threads – specifically these Sulky Petite Blendables from Anita's Little Stitches, which work really well with the tambour needle, and are on spools, which is always a plus when tambouring about.
And I started filling. I had no color plan. I just worked in different sections of the bird.
First, I started with the wings, in a darker blue-green variegated combo. Then I moved on to the body, working the outline and any lines on the pattern in the same darker blue-green combo. (The color is called Peacock Plume).
Then I switched to a lighter blue-green combo called Ocean Blue, and began filling in the body.
The poor little Bird of Paradise was looking a bit less than Paradisal.
But… it's practice!
I really had no intention to go crazy with any colors. I was just going to stick with the blues.
But then, something happened. I switched to a purple-pinkish combo (the thread name is either hydrangea or iris – not sure which) on the wing feathers.
At this point, I admitted to myself that this bird was going to look odd, indeed.
The wing feathers were great practice for filling small spaces, and starting and stopping to create sharp turns.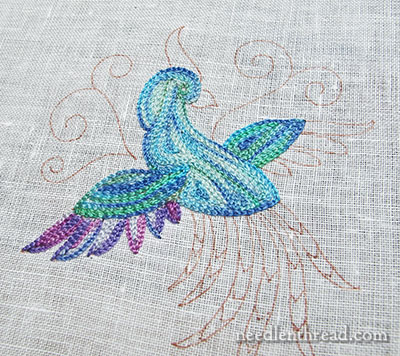 Strange – odd – yes. But … it drew me in. I just had to continue!
I love it when practice sessions become the most Looked-Forward-To Event of the Day!
When I approached the first tail feather, I realized I was making a choice from which there would be no turning back.
If you do this to the poor bird, I told myself, you will be transforming it into a regular Gertrude McFuzz!
Having a weak spot for Dr. Suess's strangely drawn characters, though, I threw caution to the wind. I went for a brilliant orange-yellow-brown combo called Autumn and attacked the tail.
And of course, I could not leave my bird with just one droopy-drop feather!
The tail is Fun! A bit vibrant. A bit discordant with the blues and purples above. But fun, nonetheless!
I've christened her Gertrude. We're enjoying each other's company during my daily half-hour ritual with the tambour needle.
I'm not one hundred percent certain where she will go from here. But when she gets there, I'll show you!
Tambour Tutorials
Lots of folks have written in, asking for tambour tutorials. I have accumulated all the necessaries to work up some tutorials for you, including a new camera lens, so eventually, you'll see some tutorials here on Needle 'n Thread. We'll also look at a few more books and learning resources in the future.
But I don't want to swamp Needle 'n Thread with consecutive daily posts on tambour embroidery. Variety being the very stuff of life, the information will trickle out, mixed in with the Daily Dose of Embroidery Chatter, in the same way that most subjects develop here on Needle 'n Thread.
If you have any questions, comments, or suggestions, have your say below!