Couching goldwork threads can feel a bit therapeutic. It's a slow process – not a technique that you rush – but it's very repetitive. And it's not difficult!
The only time it gets a bit hairy is when you suddenly realize things aren't fitting together quite as well as you hoped. I had a little panic moment when couching the gold threads around the inner frame of the Mission Rose.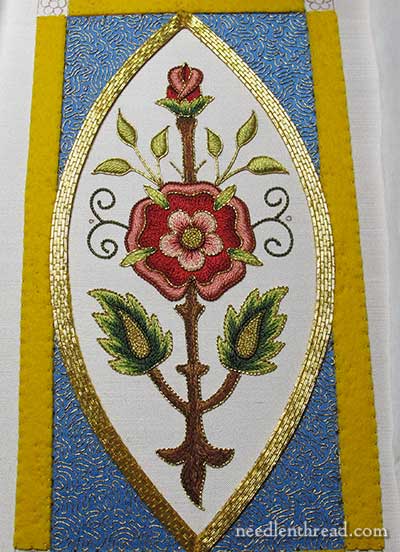 Here's both sides of the inner frame, covered with gold passing thread.
And, stepping back a little bit from it, here it is again.
The very tips of the "marquis" shape around the rose join together in a definite line – almost a deep cut – where the goldwork threads come together. That's part of the plan.
I wanted a noticeable "cut" where the tips meet, because I want the inner frame to appear beveled, as if it bows outwards and upwards from the two tips. Once the outer and inner edge treatments are on, I'm hoping a slightly beveled look is the result – we shall see!
There are exactly five couched pairs of gold passing thread around the whole frame. They're couched in a bricking pattern, with the stitches alternating placement from row to row.
For the most part, the gold fit over the felt outline perfectly….
…although there were a couple places where the felt is not absolutely covered, and a few places where I felt as if I were squeezing the goldwork onto the felt.
This whole situation made me pause. It almost made me remove several lines of the gold and re-do them. I had to step back from the project for a day and think about that.
But, in the end, I left it.
That little rim of visible felt there? It will be covered once the inside treatment of the frame is couched in place. For that, I'm going to use a very heavy pearl purl, to create a gold bead-like edge just along the inside of the frame.
Can't wait to do it! And can't wait to show you the results! Couching by itself is pretty enough, but a cleanly finished edge treatment always makes it look so much better!
You can follow the progress on the Mission Rose project from start to finish by visiting the Mission Rose Project Index.