Earlier this year, I showed you my absolutely favorite – and beautiful – laying tool made by Jack & John, a father-and-son team, at JR Crafter.
If you want to know what a laying tool is, you can read this article on the subject. You can also watch this video on how to use a laying tool.
The JR Crafter laying tools are my favorite needlework tools that I own. What they did was take the BLT (Best Laying Tool by Shay Pendray) and encase it in exotic wood or colorful acrylic – they're the perfect size to hold (the BLT on its own is quite small and fiddly to hold), they're the perfect weight, and – doggonit – they're just pretty.
I have another JR Crafter "tool" that has been my constant stitching companion for the last six months. It's an organizational tool. And it has solved that Where-Did-I-Put-It Dilemma. I no longer shuffle around for this tool or that while I'm in the middle of stitching.
And that, my friends, is a Wonder and a Miracle. And that's why I'm showing you this pretty little tool caddy today – and giving one away. I also think this little beauty is a terrific gift idea, for those putting together Christmas lists.
The needlework tool caddy by JR Crafter is a small, sloped, round piece of beautiful wood – actually, several types of exotic wood put together – with a slit running across the top (perfect for a ruler) and six holes. There are two large holes that accommodate the JR Crafter laying tools, pens, or crochet hooks, and four smaller holes that can accommodate a whole variety of tools, from scissors to tambour hooks to seam rippers.
The base of each of the holes in the caddy (and the actual base of the caddy, too) is lined with felt, to protect the tips of your scissors and other tools.
The caddy sits on my worktable, just to my right (because I'm right-handed). If I'm stitching at a floor stand or at a large frame on trestles, it sits just to my right on a little folding table.
When I start a stitching session, it's waiting there faithfully with all the tools that I'll be reaching for at some point: a pencil or a micron pen, my laying tool, two pairs of scissors (one for goldwork, one for threads), my tambour needle (lately), and my little "stitch fixer" – a tool that pushes short threads into place or pulls them through hard to reach spots.
While I'm stitching, if I need any one of those tools, I don't have to look for it. I don't have to scrounge around on the surface of my work table, moving this thing or that, looking for whatever I need. They're all right there in the caddy, and once I use a tool, it goes back in its slot.
Admittedly, at first, I had to train myself to use the caddy every time I needed a tool. I'm not by nature an organized person when I'm in the middle of a project, and I pay for that lack of organization with time and frustration, looking for tools, threads, and the like. At first, I had to keep reminding myself: Use the Caddy. Use the Caddy. Put it Back in the Caddy!
Finally, it developed into a habit, and I think it's made a big difference in my stitching sessions. I never, ever fiddle for a tool anymore. My work area on my table is (relatively) neat and tidy. (Um. That's the work area. Not necessarily the area surrounding the work area!)
There's one other neat little feature of the caddy. It has an imbedded magnet on the front of it, where you can park a needle or two if you need to.
This has come in really handy while doing tambour work, because I use a needle to fix my threads on the back when I'm finished stitching an area. When I start a tambour session, I park a regular needle right on the front of the caddy, and it's there when I need it.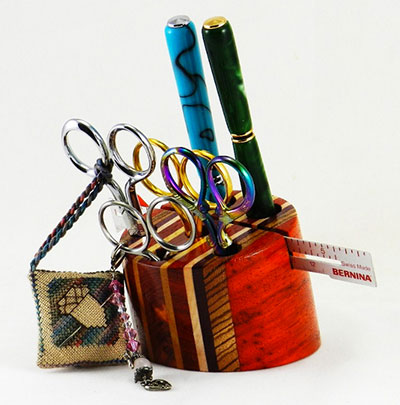 This is the product picture for the needlework tool caddy in the JR Crafter shop. You can see how the slit can be used for a ruler, and you can see (much better!) how the caddy displays favorite scissors.
What I like about it:
1. It's beautiful and well-made. I love beautiful tools and accessories.
2. It's functional. It does what its supposed to do.
3. It helps keep me organized! And that's a Very Big Plus!
4. It's beautifully crafted by a father-son team working together. I love supporting Small Businesses like JR Crafter.
Give-Away
The Give-Away is now ended. Thanks for participating!
Today, courtesy of the folks at JR Crafter, I'm giving away one of these beautiful caddies. Think of it as a perfect little gift for yourself or for a stitching friend. And really, it can be used by any crafting friend who uses tools, or even for anyone who has a desk and keeps pens and pencils lying around. It's versatile!
To participate, just follow these guidelines:
1. Leave a comment below, following this link. Comments sent in via email or left on another page on the website are not eligible.
2. In your comment, answer the following:
Would you categorize yourself as an "Organized Stitcher" or a "Disorganized Stitcher" – or somewhere in between? What's your "work station" look like during a stitching session? Do you ever have to scrounge about, looking for specific tools? Or do you, by habit, keep it all neat and tidy?
3. Please make sure you leave a recognizable name with your comment.
4. Please leave your comment before next Friday, November 15, 5:00 am CST (Kansas, USA). I'll announce the winner next Friday!
Enjoy your weekend – hope you can squeeze in some quality time with your needle and thread!