Good morning, Friends! Today's the eve of Christmas Eve, and it's Monday, and it's just a little over a week before we ring in 2014.
And all of those together make it a great day for a very special give-away!
A few weeks ago, I reviewed Margaret Lee's beautiful and instructive new book, The Art of Chinese Embroidery.
Today, thanks to the folks at Country Bumpkin, I'm giving away two copies of The Art of Chinese Embroidery, both signed by Margaret Lee.
But wait! There's more! And this part is quite delectable, too!
Accompanying each copy will be one of Margaret's project kits that include everything you need to complete one of the projects found in the book, except an embroidery frame and scissors.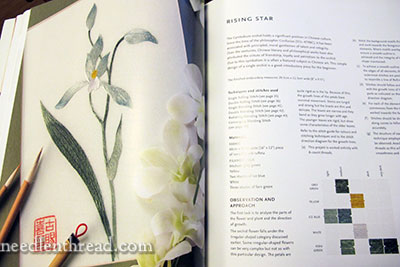 One winner will receive a kit for this gorgeous project…
…and the other will receive a kit for this gorgeous project.
Trust me, they're both gorgeous projects!
And the kits themselves are gorgeous, too. They come packaged neatly in a red foil decorative box, replete with printed fabric, all the silk threads required for the project, lacing threads, clear photographs, and needles. I reviewed Margaret Lee's embroidery kits quite a while ago – you can check out that review to get a better idea of what the kits are all about.
The book covers both projects thoroughly, so you will find excellent instruction within the pages of your new book!
So, for two lucky winners, I'll be mailing you a signed copy of Margaret Lee's The Art of Chinese Embroidery and one complete kit, so that you can learn the art of Chinese embroidery in 2014.
If you've been pining for the book since I reviewed it, and want to learn this exquisite art, then this give-away is definitely for you! And although your new gift won't arrive before Christmas, you'll still get it early enough in the year to add it to your needlework list for 2014.
Give-Away Guidelines
This give-away has ended.
This give-away is open to anyone, anywhere. I have the kits and books here in Kansas, and will ship them wherever they need to go!
If you'd like to enter, please follow these guidelines:
1. Leave a comment below. Your comment must be left at the end of today's article on Needle 'n Thread. Just follow this link to go directly to the comment form. Comments left via email or on another article are not eligible.
2. In your comment, please answer the following:
What appeals to you most about Chinese embroidery? Is it the silk thread? The elegance of the designs? the realism achieved by Chinese embroidery? Is it the challenge of it? Is it the opportunity to add a new technique to your repertoire? Or is it something else?
3. Please be sure to include a name with your comment, either in the "name" line on the comment form or at the end of your comment. Anonymous comments are not eligible. In order to avoid confusion when the winner is announced, it is helpful if you make your name distinguishable from others with the same name by including a location or last initial or something like that. If your name is Sue, for example, you might write "Sue in Syracuse" or "Sue J" or a nickname like "Sewing Sue."
4. You do not need to fill in the "URL" or "website" line on the comment form. If you do not have your own website or blog, go ahead and leave that line blank, please.
5. Leave your comment by Monday, December 30, at 5:00 am CST (Kansas, USA). I'll randomly draw the winners on Monday morning and announce them that day. You'll need to check back on Needle 'n Thread on December 30th to see if you won. The winners will need to contact me with a mailing address within 48 hours. If I don't hear from the winners, I'll re-draw. So don't forget to check back!
If you receive the daily newsletter, the announcement will come in your email inbox.
Subscribing to Needle 'n Thread via E-Mail
Did you know you can conveniently receive each day's article in your email inbox by subscribing to Needle 'n Thread? Subscribing is easy – just enter your email address in the top right corner of the website, under Needle 'n Thread Daily Newsletter. Then follow the prompts to confirm your subscription.
Email subscriptions are convenient because you get every bit of information that shows up on the website, you can also save the articles you want to save, and the articles arrive in your inbox in a much more printer-friendly format, in case you ever want to print them, which is wonderful when you want to print a tutorial from Needle 'n Thread!
So, Merry Eve of Christmas Eve! Leave your comment for the give-away (following the guidelines above), and then go forth and have a wonderful day!