Here's a gorgeous new book out called The Art of Chinese Embroidery – Foundation Level by Margaret Lee.
And when I say Gorgeous, I really do mean Gorgeous!
But the book isn't just beautiful. It's thoroughly instructive as well. Today, I'll show you the book and tell you a little bit about it…
Last year, I reviewed one of Margaret Lee's embroidery kits here on Needle 'n Thread. At the time – and when I wrote this article on Su Embroidery – I wished for a good instructional book on the subject.
And low 'n behold, now there is one!
Be prepared, when you first encounter this book in person, to be completely gobsmacked by the detailed, exquisite embroidery within its pages!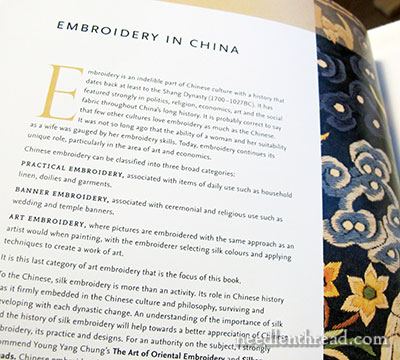 The book begins with a history of silk embroidery in China. The Chinese have been embroidering with silk at a high degree of skill for thousands of years, so it is no wonder that they have perfected the art of needle painting. (If you're unsure of how perfect their needle painting skills are, please do look at the pictures on this article about Su embroidery. The pictures will convince you!)
The information here is brief, but it gives a good overview of the different styles of embroidery in China. From here, it moves into a more particular history of Su embroidery. And in this section, you will find some very helpful advice and some very wise words.
Margaret Lee discusses "becoming an embroidery artist." She talks about how the embroidery artist – to become an artist – must commit to embroidery, via attitude, patience, observance, and practice.
Whether your interest is in Chinese embroidery or Western embroidery, whether your interest is in blackwork or whitework or goldwork – it doesn't matter. If you want to become an "artist" in your area of interest, Margaret's words are well worth reading.
There's also a brief bit on sericulture, the farming of silk worms, an important industry in the Far East.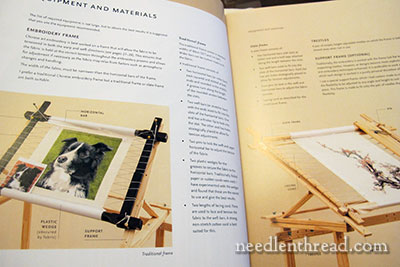 Then, as all good embroidery books do, the instructional part of the book begins with a discussion of materials. And I'll tell you something:
I want one of these.
This is the trestle and frame set-up. The frame is more or less a typical slate frame. The trestles are slightly different from what we normally see in Western embroidery. And I like them. I like them a lot.
The photo in the book is large and clear, so if you have a wood worker in your household (you're a lucky duck, if you do!), you can probably have the stand whipped up in no time.
Update: These trestles and frames are available through Margaret Lee's website.)
Besides the trim look of the trestle set up, and the wonderful slant that can be had on the work, I love the fact that Margaret Lee points out the arm rest. On traditional Western embroidery frames and trestle set-ups, the work, which sits at a much lower angle or flat, is usually covered with tissue paper or some other fabric. The arm rests on the protected fabric or the edge of the frame, if it needs to rest.
On the Chinese frame, there's a wooden armrest that makes up part of the workstation. I may start doing that.
There is, of course, a section on tools, including needle requirements. When you're working with various weights of silk on this type of detailed embroidery (and usually on silk fabric), you'll need a variety of needles.
And then when get into the instructional stuff. And this is good stuff!
First up – joy, bliss! – how to handle those finicky skeins or clusters of Chinese silk! At a full-fledged workstation, the various colors of silk are usually draped and knotted over several bars near the embroiderer, so that she can easily select her colors as she stitches. Since most people don't have a permanent workstation devoted to Chinese embroidery, Margaret Lee shows us, step-by-step, how to tame those skeins and keep them in order.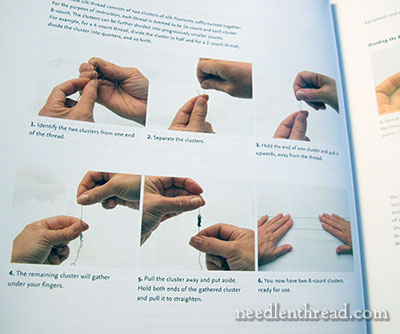 And then, there's the whole question of separating the silk into individual strands.
If you've not worked with Chinese filament silk before, this information will come in so handy. It's finicky thread, and knowing how to handle it from the outset is a real bonus. It will save you from grief and frustration!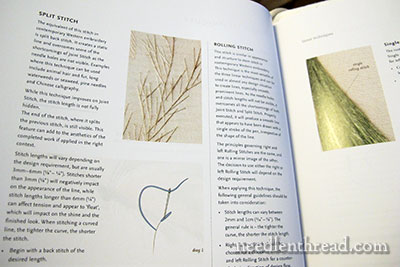 And then we move into the stitches and techniques.
At a glance, the untrained eye may look at a piece of Chinese embroidery and assume that all the stitches are the same – they all blend together so perfectly into its finished painted appearance.
But in this style of embroidery, there are actually many different stitches and variations, and Margaret Lee discusses each of them. She provides a clear diagram of how the stitch is formed, and a clear photo of the stitch in the context of a piece of embroidery.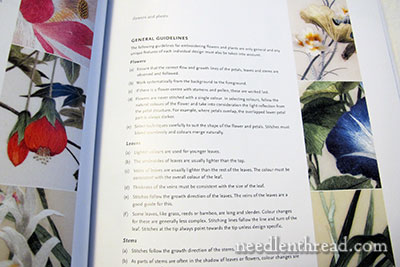 And then, we move into the projects.
The first section is about embroidering flowers and plants, and it begins with general guidelines for embroidering realistic, needle painted flowers.
The morning glories on the cover page for this section are Glorious!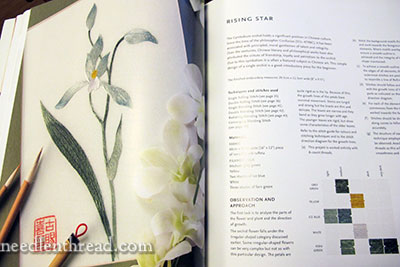 The project (or practice) section of the book is arranged into seven different projects that progress in level of experience.
In the first section on flowers and plants, there are three stunning projects.
For each project, there's a photo of the completed piece, the pattern, close up photos, a stitch guide and a color guide, and instructions on the order of stitching.
In addition to the three floral pieces, there is a project that studies the embroidering of insects, one that studies brush painting, one that explores birds, and the final project in the book is on embroidering fish (as seen on the cover of the book).
Following all the Foundation Level projects, Margaret Lee discusses what's next. She shows us some reversible embroidery (where the front and the back create identical pictures), she discusses the embroidery of animals, and random stitch embroidery.
The cranes.
Oh, the cranes.
These cranes are so incredibly beautiful. You must get the book. You must see them.
For those who are under the impression that Chinese embroidery is very "flat" without any dimension or depth, these cranes will tell you a different story.
They are Sublime. The detail – the graceful movement of the neck – the perfect blending of shades and color – the play of light on the silk – every tiny detail in just the perfect place – the whole serenity of the picture. It is Art.
The book ends with a big section of fold out patterns, all ready for tracing.
Pros & Cons
The Art of Chinese Embroidery is a stunning, instructive, thought-provoking book.
I can only think of pros – no cons. There's no drawback to owning this book. Even if you aren't interested in Chinese embroidery per se, but you have an interest in the discipline of becoming an embroidery artist, or you have an interest in needle painting, in working with silk, in long and short stitch shading – in producing realistic yet beautiful embroideries – this book will speak to you.
It is instructive, gracious, and beautiful.
Where to Find
You can find The Art of Chinese Embroidery by Margaret Lee through the following book affiliates:
In the US, you can find The Art of Chinese Embroidery through Amazon.
Worldwide, with free shipping, you can find The Art of Chinese Embroidery through Book Depository.