Oh, ye'll tak' the high road, and I'll tak' the low road…
But whatever road you take, if you end up in Scotland, and if you love needlework and all things historical-needlework-related, perhaps you should schedule a stopover in Coaltown-of-Wemyss, perched just north of the Bonnie Banks of the Firth of Forth, to visit the Wemyss School of Needlework.
I recently wrote to the Wemyss School of Needlework to get on their newsletter mailing list. This led to an exchange of emails and an offer to write an article about them. You see, I find this little school and what it is doing now quite fascinating, and I think you'll find it equally as fascinating. Hopefully, you can help me spread the word about it!
The Wemyss School of Needlework is perhaps not as well known as the Royal School of Needlework to the south; nevertheless, it has a worthy history, it houses an impressive historical collection, and it is recently "making a comeback" in needlework education.
Founded in 1877 at Wemyss Castle, the purpose of the Wemyss School of Needlework was to instruct the daughters of local miners and farmers in embroidery, so that they could find employment.
In 1880, the school moved to its present location in Coaltown-of-Wemyss, in Fife.
At its peak, an estimated 36 girls worked and studied at the school. The advent of the Second World War saw the school decline as students moved off to participate in war work.
It never recovered as a formal school, but the school itself and its collections were kept intact and cared for by the Wemyss family and the school's seamstresses.
The school houses an exhibition space where visitors can view part of the school's collection and archives of textiles, embroideries, and designs dating from as far back as the 17th century.
In the first two photos above, you can see a layout of textiles on display in the museum, including two caskets, and in the third photo, the first head mistress's charming desk.
In addition to the museum, the School is turning back to its origins and becoming a school again!
This past year, several "taster" classes were successfully offered at the Wemyss School. They included classes in crewel work, silk shading, goldwork, and whitework.
If you weren't there for the classes, the embroidery kits are available at the Wemyss School of Needlework website.
Ahhh – wool samplers on display! Do you need a cushion? A reupholstered chair? A kit to make your own? The school does bespoke work, too (commissioned work), drawing from a large archive of needlepoint designs that can be made up into kits for cushions, stools, rugs, pincushions.
Those samples on the wall would make stunning miniature canvases, don't you think?
The Wemyss School has a wool wall, too! They stock needlework supplies, including Appleton wool, canvas, linens, and the like.
Besides reviving the educational aspect of the school, much work is being done to catalog the archives:
Another important task for us to complete is the cataloguing of our archive. A partial catalogue, written by Margaret Swain in 1984, forms the basis of this task. A fantastic volunteer recently spent a month here helping us to measure, describe and allocate a reference number to most of our pieces. This now needs formalising and every piece will be photographed so that we can assess the conservation requirements of the collection and also have a fully searchable database. We will then be able to curate our exhibitions effectively and allow people to browse the database to view items that aren't currently on show as a special request. Currently we are working towards generating enough income to cover our running costs and then any surplus profits will be fed back into the care and conservation of the archive.
Working through the ledgers that date from the beginning of the school, they are slowly discovering and cross-reference data about what was stitched, by whom, and for whom.
If we can then add photographs and invoice records we can build up a picture of how the School ran, how busy they were, who visited and who work was made for. We know that pieces were made for members of the Royal Family including some of Queen Victoria's children and later Queen Elizabeth the Queen Mother. We are now appealing for anyone who has visited the school or has connections to the school (perhaps through friends and family) to help us out with the missing pieces of this historical jigsaw puzzle.
We would love to have copies of photographs of the girls who learned and worked here either from then or later in their lives. We would also love images of any pieces made here and copies of any accompanying paper work. Accounts of any visits from abroad and any projects that were inspired by visits here would also be of great help to document the rich and lively story of the school.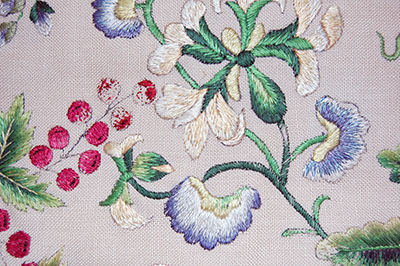 The revival of the Wemyss School of Needlework is, in my opinion, such a bright, positive thing! It's a good sign that the needle arts are alive and healthy.
Right now, there are some nice events scheduled at the School – including this Christmas class with Helen McCook and what sounds like some really fun "stitch ins" – social stitching gatherings where you bring your own project and stitch what you like, and drink coffee and tea and eat mince pies.
What could be more charming than stitching, socializing, drinking tea, and eating mince pies in December?!
There are limited spaces, so you have to book not only the class, but also the space at the stitch-in. If you're in the area or will be traveling through in December, it'd be jolly fun! You should do it!
If you want to keep up with the news, you can add the Wemyss School of Needlework blog to your reading list, or you can contact them to be put on their newsletter mailing list.
I hope you enjoyed this brief look at the Wemyss School of Needlework. If you are ever traveling to Scotland, why not slot them into your itinerary and drop by to say howdy?
If you live in Northern England or other parts of Scotland and didn't know about the school, maybe you could plan a day trip or an extended weekend to take in a class and visit the museum.
If, like me, you live far, far away, at least keep up with the news from the school. It's exciting times for the endeavor and it will be fascinating to see how the future develops for the Wemyss School of Needlework!
Thanks very much to Louise Foster for the information and the photos!