Well, the Mission Rose project is, at long last, finished. Whew!
And here it is:
And this is how you know I'm just not a skilled photographer. I never did get a straight-on, squared up shot. This one is the closest I got. I will have to do better once the piece is framed.
What Am I Doing With It?
This is such a popular question! Though I've answered it before, it keeps coming up, so I thought I'd address it clearly, with it's very own heading!
I'm framing the Mission Rose and hanging it in my home. I don't really have any of my own embroidery framed and hung here. All the major projects I've done have always ended up as gifts. So I'm pretty sure I'll keep this one.
I'll have it professionally framed, using museum glass, and it will hang out of the sunlight. The glass will help keep the piece dust free and will help preserve the gold from tarnishing too quickly.
It will most likely not be matted – there's enough going on with the goldwork frames already – so to lift the glass away from the surface of the work, the framer will use spacers. Chances are, the frame will be black or deep brown and very simple. I don't know yet for certain, because I haven't gone frame shopping yet. I'll show it to you when it's finally framed and hung.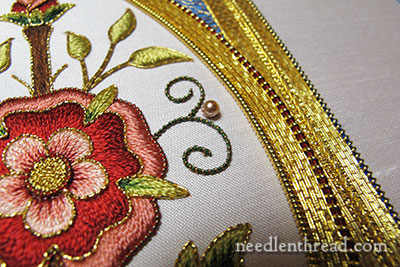 Materials & Costs
Here's a list of the retail cost of most of the materials for this project. When buying these materials retail, you have to buy them the way they come, so for many of the supplies, I definitely have leftovers! But for some of the supplies, I just scraped by. If I needed two quantities (2 spools, 2 meters, etc.), I indicated that below.
So, just to clarify, I did not calculate costs based on materials used, but rather on materials bought in order to work the project.
Silk Threads
Soie de Paris – 9 spools – $36
Soie Ovale in 1 color – $2.50
Silk couching threads – 50 wt and 100 wt – $12
Goldwork Threads
#5 bright gold smooth passing (15 meter spool) – $12
#4 gold smooth passing with silk core (18 meter spool) – $28
Check Thread (fine – #7) (10 meter spool) – $13.50
Tambour Thread #7 (30 meter spool) – $9.50
Elizabethan Twist (2% gold, 8 meter spool) – $19
#2 gold twist (2% gold) – 1 meter – $5
Pearl Purl – Super – 1 yard – $6.70
Pearl Purl #2 – 1 yard – $11.50
Pearl Purl #3 – 1 yard – 15.50
#10 Bright check purl (18″) (2) – $14
Beads
gold (package of 24) – $4.31
Pearls (100) $4.37
Total retail cost of silk threads, goldwork threads, and beads: $193.88, not including taxes or shipping.
This total does not include the ground fabrics (pink and blue silk dupioni), the linen backing fabric, the wool felt for padding, beeswax, #10 and #12 crewel needles, #22 chenille needle, and a curved beading needle (for securing threads).
Keep in mind, the total does not equate with the value of the finished piece. $200 for supplies for an embroidery project is a lot of money, certainly. But compared to the cost of the time and effort that went into the project, the cost of the supplies is negligible.
Although the photo above has a pretty deep shadow on it, it does at least give more of an idea of the pink background of the piece. All along, the background has usually looked off-white, or sometimes taupe-ish, but it's really a very pale, shell pink!
Making It My Own
When I began the Mission Rose project, I started with a design that came from an old piece of ecclesiastical embroidery given to me by my friend, Larissa Borodich.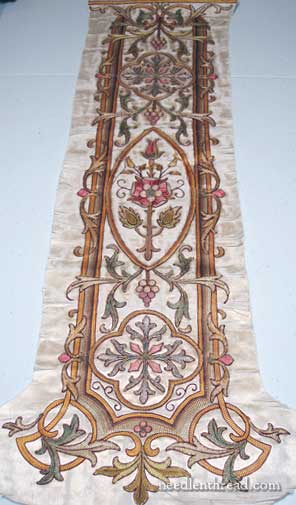 The original piece was worked in tambour embroidery in silk, and highlighted with goldwork.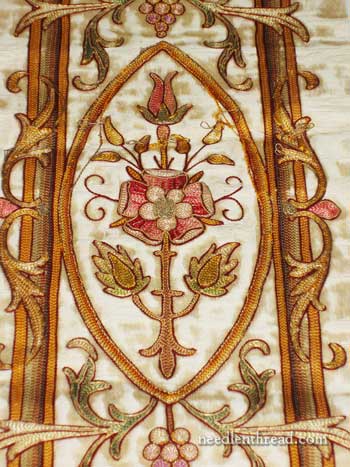 You can see here which part of the design I adopted.
I could have slavishly copied the design, colors and all, and recreated exactly the same design in exactly the same techniques, with new threads and ground fabric.
It would have been pretty. But I wouldn't have been making it my own. And I wouldn't have been doing something new – I wouldn't have been taking embroidery forward, but just re-doing what had already been done.
When I isolated the rose design in the old piece above, I saw it differently. I saw it vivid, jewel-like, and rich. That's what I tried to create. And so, while the design is an old one, the finished Mission Rose is new, drawing from the past, but re-imagined for today.
I hope you like it!
You can follow the entire Mission Rose project from beginning to end by visiting the Mission Rose Project Index, where every article about this project – including all the tips and techniques and materials – are listed chronologically as the project developed.